The human experience is communal and traditions bring people together — from the past, present, and future.
Need an idea for Lenten almsgiving?
Help us spread faith on the internet. Would you consider donating just $10, so we can continue creating free, uplifting content?
Make a Lenten donation here
I love spending time in our parish school, where my job is to stick my head through the classroom door, rile up the kids, and then disappear to leave the poor teacher to restore order (which may be why the students always beg me to visit their class on the day of the big quiz).
When I'm there, I often let the kids ask me random questions and a regular topic of curiosity is how old I am. I'm only 37, but when the middle school students rub it in my face that I graduated from college before they were born, it stings a bit. I wonder how life has slipped by so quickly and if my previous experiences have become unimportant.
All is not lost, however; the deeper I dig, the more admirable my past becomes. I grew up in the era of the Nintendo Classic, which now has tons of vintage cred, the bands I grew up listening to are being rediscovered, and my preppy dressing style is showing up on the mannequins at the mall. The lesson is that if none of us ever changes, eventually our worn-out stuff from the past will become what's new in nostalgia.
In my urban neighborhood, all the idealistic, skinny-pants-wearing hipsters are reviving everything from their grandparents' generation (I call them "hipsters" lovingly because I'm kind of one of them, although I prefer normal-sized trousers). We shave with old-timey single blade razors, make coffee with antique hand-grinders, ride vintage bicycles while wearing tweed jackets, listen to music on vinyl records, and are in love with incense and Gregorian chant at Mass. I'm not pretending this is the only way to be cool, and I won't blame you if you shake your head and laugh a bit, but the point is that the past is still very much alive.
Even traditions and habits that aren't trendy have value — probably because to those who practice them, even if they're silly or have unknown origins, they possess a whiff of authenticity. For instance, when my extended family gets together for Thanksgiving, ambrosia (a sort of marshmallowy fruit salad) is always on the table. I don't actually care for it, but I'm glad it's on the table because it has been there every single Thanksgiving that I can remember. Ambrosia is home. It's family. It's the memory of 35 years. And not knowing the origin of this tradition doesn't invalidate it.
The writer G.K. Chesterton warns us to not throw these sorts of old habits away too eagerly. A tradition is like a gate across a road serving an unknown purpose. It would be a mistake to tear it down simply because we don't know why it's there. Who knows? Maybe an angry bull lurks on the other side. If you have a tradition that you love but can't really explain why, hang on to it! Don't be embarrassed or feel that it must be accompanied by an exhaustive explanation.
I admit it may not be the most logical move to reject a fancy new coffee machine in favor of a French press for which I painstakingly roast and grind my own coffee beans. It would be easier to pop in a little plastic cup, push "brew," and be done with it. So why choose the more difficult, older method? At least partly because it's the way my great-grandfather made coffee. I've never met my ancestors past a certain generation but I nevertheless feel connected to them. The human experience is communal and traditions bring together the human family — past, present, and future.
We all know that traditions connect us with the past, but maybe it isn't as clear that they also connect us with the present and the future. Traditions are like stepping into your childhood home again, they fit us just right, and through the magic of nostalgia bring happy times from the past back into the present. The past is never gone, it remains a part of us forever, and even if you're starting to feel like Father Time has passed you by when kids talk about the new stuff they're into these days, nothing is wasted, nothing old is ever lost. Knowing that nothing in life is simply a temporary stage soon to be discarded when we move on, we have the strength to joyfully face the future.
The course of our lives develops like a maturing tree. We begin as saplings and over time put out new leaves and branches, but we're still rooted in the soil. As we grow, those roots dig even deeper into the ground and the strength of the past becomes the source of future growth. Most encouraging of all, future generations will one day look back at our lives and find great value in the traditions that we are making right now each and every day with our loved ones.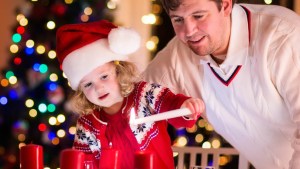 Read more:
3 Totally simple ways to start Advent traditions with your kids