Making it legal doesn't make it right.
Facebook is many things to many people; most have somewhat mixed feelings about it. And yet, reservations aside, it's a virtual community that vast numbers of people carry with them in their pockets on their cell phones. Every so often, we find unexpected treasures there: stories of true kindness, beauty, or redemption — often more meaningful and poignant because they also involve sacrifice, suffering, and loss, things that touch the lives of each and every one of us. They are stories about the human condition that teach us important lessons about life and about ourselves.
Such is the case of a recent post I read on my friend Cristina Vailati Facchini's page. It's a message from a woman named Marina. My friend doesn't give Marina's last name, precisely because she shared something much more personal: Marina's experience of abortion as a woman — and as a mother, because that baby was and still is her child.
Marina, who put an end to her baby's life, thought she could remove him from her life forever, but now she suffers from deep pain and loss. Her message purifies with its truth. And in that pain, which only Christ can heal, she is learning to forgive herself, to find peace in her heart. However, she's not at peace with the great deception that still entangles millions of women: the portrayal of abortion as a right, as something positive for women. She joins her voice to that of the pope, who has spoken out strongly against it.
Marina's message
"Freedom is a serious thing. It is responsibility. If you were to throw your child from the balcony, you'd suffer the consequences legally, but especially humanly. The ache would haunt you every day of your life. You'd have to learn to live with it, and if you didn't learn to forgive yourself (a long, arduous, difficult journey), it would wear you down to the bone. If you do the equivalent when the child is in your womb, you can avoid the legal consequences (prison), but humanly, the pain weighs down every fiber of your being …  The fact that it is legal is like an anesthetic: you have a pain in your soul, you anesthetize it socially, so you're better. But it is just asleep: the pain is there, and remains temporarily anesthetized inside you, but your conscience awakens it from time to time, and it's excruciating, frustrating, and in some cases devastating.

"Today, I who killed my child want to say: Legalization of abortion?It's a huge deception. Our sacred freedom, which has life and death consequences, is being deceived: 'Do what you want, your life is yours alone.' [It's] is a huge lie in this case, because there are actually two lives involved (three, really, because there is a father) and one of the three is totally innocent; and supposedly that "life" is yours. "Death" is yours, I should say… oh, what a deception, now that I see, now that I understand; it's a deception disguised as progress, as false freedom.

"Millions of anesthetized women are wandering the world when they could have enjoyed a single kiss with their sweet baby: maybe he would be sick or disabled, maybe healthy … but each baby is the expression of a truth that nobody can misunderstand … life is always life … I am so grateful to the pope who says — speaking about abortion — "Is it right to rent a hitman to take someone out? Is it right?"This question should be shouted out and I want to cry out too: "Women, do not put your children in the hands of a hitman! They will die, and you will die with them, day after day … I did it and I am still dying. Don't do it!"

"There are pro-life help centers in every city: that's where you have to go. And if your baby is sick, look for the first mother you know who has a disabled child and ask her to tell you from the bottom of her heart what life has revealed to her. Do not be fooled by those who say it is only suffering … It is not so; every story is always, and above all, a love story. On my knees I beg you: if my words lead you to save your child's life, I will also feel that you saved mine."
If you or someone you know is considering having an abortion, there are resources and hotlines to help you understand and consider alternatives, such as National Right to Life (1-800-848-LOVE) or Prolife Across America (1-800-366-7773), or Good Counsel Homes (1-800-723-8331)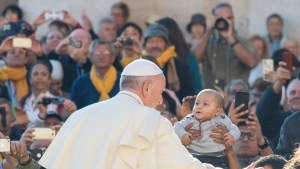 Read more:
Abortion is like hiring a hitman, says pope in strong defense of 5th Commandment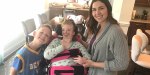 Read more:
How a mother fought back against internet trolls who used her daughter to justify abortion