3 distinct parenting trends have produced 3 distinct groups that are rapidly approaching adulthood.
My oldest daughter is going on a youth retreat this weekend, and last night I mentioned to her that I hadn't received a packing list. "Oh, they emailed it to me," she said. "Remember, you put my email address down when you registered me?"
I had not remembered, but pretended I had and asked her if she could forward the email to me.
"I don't know how to do that," she said blankly.
Email is new to her. I finally set up an account for her after years of begging and pleading, because at 12 she needs to start learning how to navigate the digital world. I decided earlier this year that it's time to start teaching her how to use technology — including what the dangers are and how to avoid them — rather than just eschewing technology altogether to avoid those dangers.
It's a learning experience for me, too. I'm having to recognize how much I take my generation's technological savvy for granted. We grew up along with technology, learning how to navigate each new advancement that came along the same way we learned to play Oregon Trail — by pushing buttons and clicking until we figured it out. That fearless foray into a new medium was only possible when the internet was just being developed and there were relatively few risks. Now, the internet is like a minefield; you never know what your Google image search is going to turn up. Hence the reason why I sat down and showed my daughter exactly how to forward an email rather than encouraging her to figure it out.
My generation is figuring out how to raise kids in a digital world in much the same way we figured out the digital world itself — by trial and error. However, Alexandra Samuel, who's done extensive surveys of North American parents and how they manage their children's use of technology, claims that three distinct groups of young people will soon be entering college and the workspace with radically different relationships with and aptitude for technology:
Digital orphans have grown up with a great deal of tech access — but very little guidance. They've been raised by parents who've given them near-unlimited access to technology, yet their mothers and fathers have had few conversations with them about what they're learning, seeing and experiencing and why it matters … Digital exiles are at the opposite extreme — they've been raised with minimal technology. Their parents' goal has been to limit their children's access in order to delay their entry into the digital world until their teens, if possible — the age when kids are least likely to listen to their parents' advice … Digital heirs have impressive tech skills, thanks largely to their parents and teachers. Their adult mentors have encouraged and directed their tech education, enrolling them in classes and having conversations with them about being a responsible Internet user.
Of course, there will be scales to each of these categories, but by and large this rings true to me. Some of my friends have given their kids unrestricted tech access since they were toddlers, some of them have banned it entirely, and others have tried to teach their kids to use it as they grew. Most of us switched from one style of parenting to another over the years — I know people who used to allow unrestricted access but now have entirely tech-free homes. I myself was determined to raise 5 digital exiles until this year, when I began to realize that there are dangers inherent in eschewing technology that are at least as bad as the dangers on the internet.
What's interesting about this phenomenon, though, is what it's going to mean when this generation reaches adulthood. Samuel talks about it in terms of a culture clash, sounding almost prophetically dire. But culture clashes aren't always bad. Sometimes a culture clash ends in the birth of a new and better culture, and maybe these three groups of kids we're raising will be the ones to shape a new, healthier digital culture.
There's no question that digital exiles will struggle to catch up to their peers' tech skills, but they'll also have the benefit of coming at it from an entirely different viewpoint. They'll bring fresh creativity to the digital world, while also retaining the knowledge that tech isn't everything. They can help teach digital orphans how to find a balance and why it's important, and the orphans and heirs can, in turn, share their tech knowledge. If these three cultures can work together and learn from each other, it's likely that they will be able to reshape our culture — bringing balance and cooperation, online and off — into a healthier, happier one.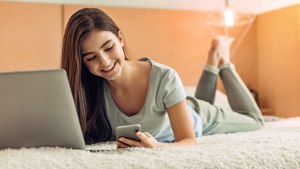 Read more:
15 Ways Generation Z could change the world