Some get back to ordinary life quickly; others need more time.
Need an idea for Lenten almsgiving?
Help us spread faith on the internet. Would you consider donating just $10, so we can continue creating free, uplifting content?
Make a Lenten donation here
I'm finally returning to my "regular" active schedule. I feel like I can now: that I have the strength and the courage, and it's the opportune time. Unlike many women, I'm in a privileged situation because I could (not without financial loss) give myself the time and space during my pregnancy, the postpartum period, and more than the first year of motherhood, in harmony with my own body. For many people, I practically disappeared from "real life." However, that's not the way it really was.
I'm allowed to rest
It can be very difficult to allow yourself to slow down your pace and focus on yourself. This is especially true if you know that your financial situation could be better, or when you have countless projects and many people who expect things from you. That's how my life was when I found out I was pregnant. Then, my professional life gradually went into hibernation. First, it went quiet, and then there was no trace of it.
From time to time I would get questions like, "Magda, what are you doing with your life now?" And I reply: "Now I can finally sit down and have some coffee." My definition of success changed when, after many hours of unimaginable pain and struggle, I gave birth to my son. For goodness sake, I think I'm allowed to rest for a while after that!
I waited for myself
Rest. It's not a word that quite fits the last 18 months of my life where 24/7 I cared for my baby all day and at night was interrupted every two or three hours. I've never watched zombie movies, and never read books or comics about them either, but believe me: at a certain point, I could have entered a movie set without makeup — I would have passed for a half-dead creature.
Eventually, however, I got back to "normal" self and recently decided to go back to work, just when I finally started to enjoy motherhood.
Women don't change according to a plan
In a woman's body nothing happens according to schedule. Some women — those possessing an unusual talent for bearing children (which I define as having a quick uneventful birth and swift recovery) — reach balance in a few months. These are the women who post luminous photos on Instagram, sharing the pleasure of baking and sunlit walks with their infant in tow. Others struggle after pregnancy, childbirth, and the postpartum period for a long time. They heal from depression, or simply wait for their body to say "yes." It can take a while for them to feel like themselves again.
The wisdom of the body means that it knows when and how much it needs to rest. The fact that you need more time to be yourself again doesn't mean that something is wrong with you. I remember the exact moment when I felt strength coming back to my legs, when I had time to read a book, and when I wanted to have sex again. I remember the first time I felt creative enough to rearrange our apartment.
"Give yourself time," I hear in my ears when I think about it all. Listen to what you need, and give it to yourself. Sometimes that means letting go of expectations, quieting down your life completely, an taking care of only the most basic needs. Be sure to listen. Part of motherhood is learning to do just that.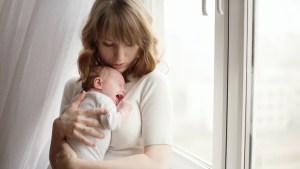 Read more:
How to recover from a difficult delivery