Under his direction, Marvel Comics became the success it is today.
Need an idea for Lenten almsgiving?
Help us spread faith on the internet. Would you consider donating just $10, so we can continue creating free, uplifting content?
Make a Lenten donation here
Stan Lee, the former president of Marvel Comics, passed away November 12 at the age of 95.
He was born Stanley Martin Lieber to Jewish immigrants in New York City on December 28, 1922. He grew up poor, like the children of most immigrant families in those years.
With the pseudonym Stan Lee, he spent 60-plus years in the comic book industry, instrumental in the creation of such favorites as Black Panther, the X-Men, Iron Man, the Hulk, and Daredevil.
Lee was a trailblazer in many ways, including in giving his superheroes flaws. Sometimes they would get sick, or would struggle with their tempers, or fight among themselves. Among them, Daredevil became the favorite of many Catholics who would identify with the character's own existential struggles:
Matthew Murdock was born into a faithful Irish-Catholic household, but lived in a Catholic orphanage during his childhood. His Catholicism is explored in many stories and is a standard feature of the new Netflix series. He is often seen in the confessional, struggling with his need for justice, his instincts to vigilantism, and the tenets of the Catholic faith.
Under his direction, Marvel Comics became the success it is today.
Lee's wife of 69 years, Joan, died in July 2017 at age 95.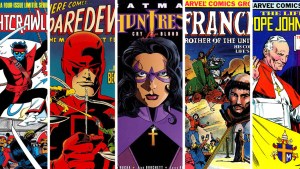 Read more:
POW! 5 Catholic comic book heroes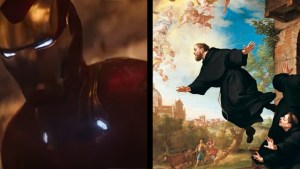 Read more:
If Marvel's Avengers were saints