Designed by a missionary carpenter, this unique Catholic church reflects the local Inuit culture.
Known as the "Igloo Church," Our Lady of Victory Church in Inuvik, Canada, is that town's most photographed landmark. Located just 120 miles from the Arctic Circle, the church was designed in the late 1950s to reflect the local culture of the Inuit people living in the newly established town of Inuvik.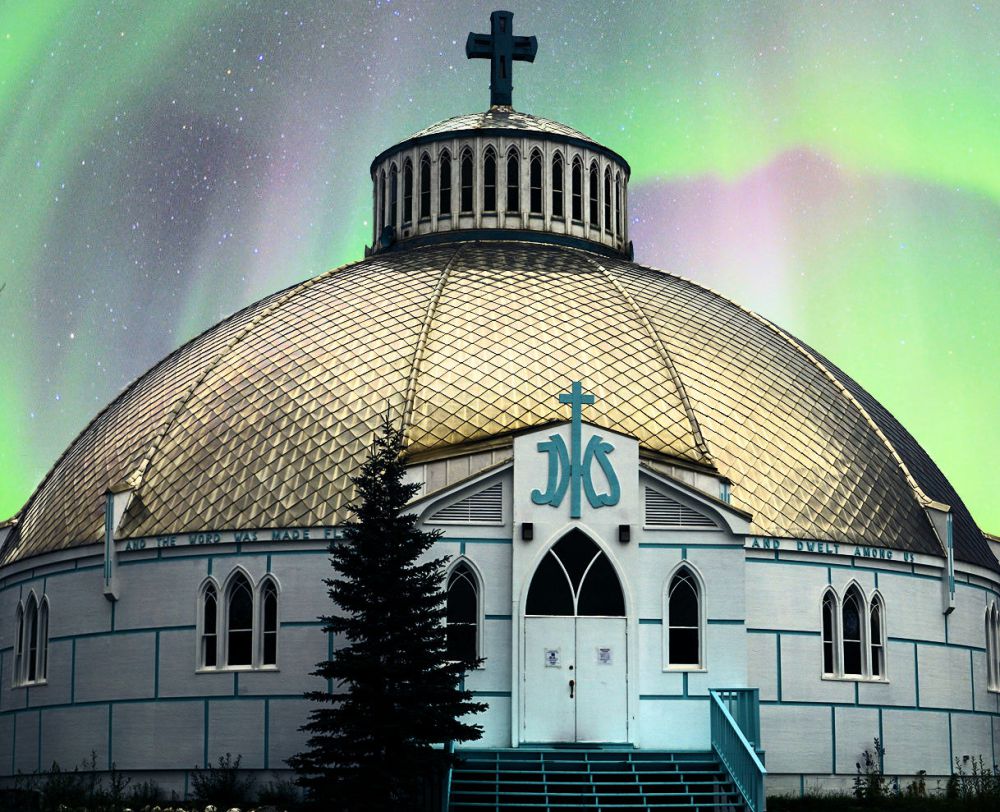 Launch the slideshow
The circular church wasn't chosen just for stylistic reasons, however. The igloo-like structure was selected as the best-suited design given the unique geography of the Mackenzie Delta region of the Northwest Territories.
When the town was founded, because the area was vulnerable to flooding, most of the new building were constructed on pilings anchored in the permafrost, which lies only six feet below the ground.
Fr. Joseph Adam, pastor of the fledgling town, realized that building a church elevated on pilings wouldn't really work.
"If we build a church with a steeple and the pilings start to heave, it's going to fall down," Adam told The Evening Day newspaper
To come up with a design for the church Adam turned to an amateur – Brother Maurice Larocque, a Quebecois member of the Missionary Oblate Order, who had arrived in the Arctic 30 years before as a mission carpenter.
Adam and Larocque decided on a circular shape to help mitigate the effects of shifting ground caused by frost heave.
"If it settles six inches on one side," said, "it won't show—and we can always jack it up to make it level again."
The project ran into a bit of trouble when government officials denied the church a construction permit because they couldn't understand Brother Larocque's amateurish blueprints.
Nevertheless work began in the summer of 1958, attracting the attention of government inspectors who tried to stop construction. Work proceeded, however, after a structural engineer hired by the bishop pronounced the church "sturdy enough to last another 200 years."
According to the Oblate Order's frugal precepts, scrap material, including the shafts of hockey sticks, was used in order to save money. The roof was clad in reflective aluminum to look like the ice blocks that form Inuit igloos.
Mona Thrasher, an Inuit artist, was commissioned to paint the Stations of the Cross inside the church, which was consecrated and dedicated to the Virgin Mary in 1960.
Mass is held on Sundays and Tuesday through Friday unless the pastor is called to travel elsewhere in the Arctic. During Christmas, according to Wikipedia, carols are song in  the local First Nations language of Gwich'in and the Inuvialuktundialect of Inuktitut, the Inuit language, as well as English.
Tours are offered during the summer months in this Land of the Midnight Sun. Inuvik, which today has a population of 3,243, gets far fewer visitors in the winter when the town is cloaked in constant darkness for 30 straight days.