Prayers of petition are good, but shouldn't be the only type of prayer.
You can get Aleteia inspiration and news in your inbox. Our specially curated newsletter is sent each morning. The best part? It's free.
Sign up here
Often when we pray to God, we ask for something. Whether it be a new car or job, or the healing of a little child, we ask God to intervene. While this type of prayer is good and natural, it shouldn't be the only part of our prayer life.
Pope Benedict XVI explained this simple truth during one of his general audiences in 2012.
Our prayers are very often requests for help in a time of need. Moreover, this is normal for men and women because we need help, we need others, we need God. Thus it is normal for us to ask God something, to seek help from him; and we must bear in mind that the prayer the Lord taught us, the "Our Father", is a prayer of petition.There is also cause for thanksgiving and if we pay a little attention we see that we receive very many good things from God. He is so good to us that it is right and necessary to say "thank you". And our prayer should also be a prayer of praise: if our hearts are open in spite of all the problems we also see the beauty of his creation, the goodness that is revealed in his creation. Therefore we must not only ask but also praise and give thanks, only in this way is our prayer complete. In his Letters, St. Paul does not only speak of prayer; he also refers to prayers and of course prayers of petition as well, but prayers of praise and blessing for all that God has worked and continues to work in humanity's history.
Benedict goes on to explain how St. Paul begins his letter to the Ephesians, "precisely, with a prayer which is a hymn of blessing, an expression of gratitude, of joy."
This is an essential part of any healthy spiritual life. The Catechism of the Catholic Church explains that the prayer of thanksgiving is one of the five types of prayer, similarly pointing to the letters of St. Paul, "As in the prayer of petition, every event and need can become an offering of thanksgiving. The letters of St. Paul often begin and end with thanksgiving, and the Lord Jesus is always present in it: 'Give thanks in all circumstances; for this is the will of God in Christ Jesus for you'; 'Continue steadfastly in prayer, being watchful in it with thanksgiving.'"
The Psalms similarly highlight this type of prayer, and frequently thank God for all kinds of events that occur.
As another example, the spirituality of Bl. Solanus Casey was marked by a spirit of thanksgiving as can be seen in the advice he gave to others to "Thank God ahead of time!" This phrase highlights a deep trust in God, recognizing the many good things he does for us in the present and future.
When examining your own spiritual life, consider how often you express your thanks to God for the many gifts he has given you in your life. Sometimes this may even be a "cross" that God has given you, which can turn out to be a blessing in disguise.
O give thanks to the Lord,call on his name,    make known his deeds among the peoples!Sing to him, sing praises to him,    tell of all his wonderful works!Glory in his holy name;    let the hearts of those who seek the Lord rejoice! (Psalm 105:1-3)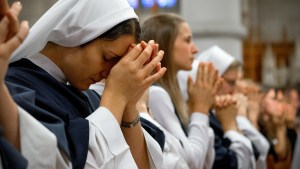 Read more:
A prayer of thanksgiving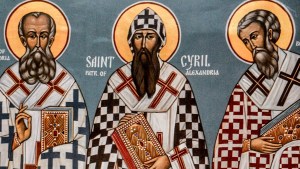 Read more:
A Thanksgiving meal prayer from the 4th century