The country star serenaded his fan at her bedside and her reaction is priceless.
Send us the names of your loved ones who are sick or suffering. The Aleteia prayer network of 550 monasteries will take them to prayer for the World Day of the Sick.
Click here to share your intentions
When a team of nurses learned that their patient, Melissa English, would be forced to miss a concert in Ohio featuring her musical idol, Keith Urban, they stepped in to ensure the 25-year-old would get to see her hero.
English has been trying to beat numerous medical conditions since birth, including cerebral palsy and an inoperable cyst on the brain. And after she had bought tickets to the show, her health quickly deteriorated and she had to abandon her plans to attend the sold-out concert.
The devoted fan had to receive hospice care and missed a final chance to see the country music star on stage. Thankfully, her nurses were fully aware of their patient's love of Urban — with English sleeping on a pillow covered with his face on a t-shirt — so they reached out to him on social media and Urban answered their request by coming to his uber-fan's bedside to serenade her.
Listening to his dulcet tones sing Blue Ain't Your Color gave English "overwhelming joy," according to her mom, Marlisse Matthews. "It was priceless," she told ABC13. "I mean, a dream come true." And if you look at the video, you can see the sheer amazement register on her face as Urban takes her hand.
Although English may be disappointed to have missed the concert, as she faces her final months of life she can hold on to a very special moment brought to her by a music star who knows how to treat his fans, as well the compassion of her attentive and dedicated nurses. Urban dedicated his Ohio concert to English, acknowledging the work of the medical professionals who reached out to him.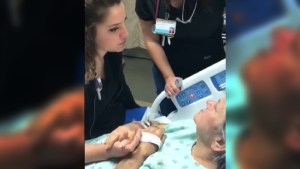 Read more:
This amazing nurse's singing fills dying cancer patient's last days with joy (VIDEO)