When he saw that the elderly woman had no means of evacuation, he knew he had to help.
When the mandatory evacuation was issued due to a dangerous wildfire, Dane Cummings, who was driving his garbage truck as usual, decided to take a detour to check on the elderly residents he serves. When he arrived at the home of 93-year-old Margaret Newsum, he found her standing on the lawn alone with no way to escape the nearing fire.
Newsum's regular caretaker had gone home that morning, leaving Newsum, who is recovering from a broken back, to struggle to get outside onto the lawn, hoping to find help. "I am positive, and I knew I was going to get out of there," she told Today. "I didn't know how, and here I got an angel driving this great big green monster."
Cummings said, "I decided we were going to get her out of there. I don't know much about fires, but I knew that if that fire came over that hill they were in trouble."
"She was my last stop": Garbage collector helps 93-year-old woman flee wildfire https://t.co/SEoBBQknX4

— NBC 6 South Florida (@nbc6) November 13, 2018
Newsum has no family in the area, so, rather than take her to an evacuation center, Cummings enlisted the help of his colleague and childhood best friend, Brian Harrison. She is now staying with Harrison and his family, who are helping take care of her. "She's actually brought some good light into our household," Harrison said.
When #CampFire erupted in Magalia, CA, WM's Dane Cumming was on his route just as an evacuation was ordered. He drove by 93-year-old Margaret Newsum and saw she had no means of escape. Dane helped her into his truck and drove her to safety. Thanks, Dane! #WorldKindnessDaypic.twitter.com/MKkdSE02Zg

— WM (@WasteManagement) November 13, 2018
"I have felt so welcome in this house," Newsum said. "Things may not work out in the way you want, but you have to have faith, and get good friends. They're such wonderful people."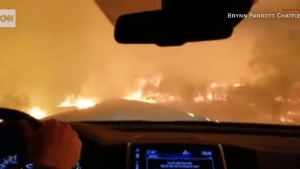 Read more:
Watch: Woman prays while driving family through wildfire