Though originally from Spain, he finished school and was ordained in Kansas, and later found himself in a Japanese prison.
Imagine being in a strange land, arrested by security forces and thrown into a cold, dark cell. You are in solitary and do not know what your fate will be. You fear the executioner will be coming for you.
A few frightening days pass, and you hear footsteps approaching. Outside your cell door, muffled voices can be heard. You pray, awaiting death. But it is Christmas Day in the year 1941 in Japan. Instead of gunshots, you hear Christmas carols. You start to cry. The experience fills you with an inner peace and all-consuming love of God that remains with you for the rest of your life.
This was the experience of Pedro Arrupe, a Jesuit ministering in a land at war with the land he'd most recently called home.
Arrupe was born in the Basque region of Spain in 1907. After graduating from high school, he moved to Madrid to attend medical school. He attended Universidad Complutense, where he met the future Nobel Prize winner for medicine, Severo Ocha. After a short time, he joined the Jesuits.
When the Spanish Republican government expelled the Jesuits from Spain, Pedro could no longer pursue his studies for the priesthood. He moved to the Netherlands, then to Belgium, and finally to St. Louis Divinity School in St. Mary's, Kansas. He was ordained there in 1936. Father Arrupe remained at St. Mary's and completed his doctorate in Medical Ethics. After receiving his doctorate, he was sent to Japan as a missionary.
Shortly after the attack on Pearl Harbor, he was incarcerated. He was released from the Japanese prison 33 days after his arrest. He moved to Nagatsuka, which was on the outskirts of Hiroshima. On August 6, 1945, he heard the sirens blaring as the B-29 bomber got closer and closer.
He was waiting for the all-clear signal when all the windows and doors were blown into his house. Knocked to the floor, Father Pedro was stunned. When he finally stood and looked outside, he saw the city of Hiroshima in flames. He also saw the first of the 200,000 casualties of the bomb.
The priest and his friends had basic food and medical supplies but no anesthetics or modern drugs. Nevertheless, of the 150 people they cared for in their makeshift hospital, only one boy died from the effects of his injuries.
In 1958 Father Arrupe was named first Jesuit provincial for Japan. Soon after, he made a visit to Latin America. He was stunned at the people who were living in such poverty while at the same time having such an intense love and devotion to Jesus.
One particular incident had a profound effect on him. After Mass, a man invited Father Arrupe to his home. It was nothing more than a hovel but the man simply wanted to share the only gift he had. He wanted the priest to watch the sunset with him. Holding hands, they watched the sun disappear from sight. Father reflected, "I have met very few hearts that are so kind."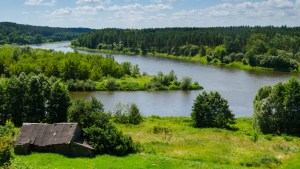 Read more:
Lithuanian strawberries and goat milk and two lessons in generosity
Father Pedro Arrupe was named Superior General of the Society of Jesus in 1965. It was his mission to guide the community through the changes that followed Vatican II. He had a deep concern and love for the poor, and he wanted to make sure the Jesuits focused on their needs.
His work and influence resulted in a decree from the 32nd General Congregation, called "Our Mission Today: The Service of Faith and the Promotion of Justice." This was passed  in 1975. It guided the Jesuits in practical ways to work with the poor.
This actually resulted in threats against their lives. These threats led to the murder of six priests in El Salvador in 1989. Even that did not deter the order from its commitment to the needy and downtrodden.
Father Arrupe suffered a severe stroke in 1981. He tried to continue on but by 1983 he had to retire. His final message to his community was as follows:
More than ever I find myself in the hands of God. This is what I have wanted all my life from my youth. But now there is a difference; the initiative is entirely with God. It is indeed a profound spiritual experience to know and feel myself so totally in God's hands.
Father Pedro Arrupe died on February 5, 1991. He was 83 years old. This year, his cause for canonization was officially started and he has been declared a Servant of God.
Servant of God Pedro Arrupe, please pray for us.
Read more:
Japanese students recreate the bombing of Hiroshima in virtual reality
Read more:
Pope's poignant reflection at American cemetery – "With war all is lost" (Full Text)