The new Mark Wahlberg film shows that being a foster parent isn't always pretty, but it's still worth it.
Sometimes, we pretend that family is some magical, mystical thing — a gift dropped from the heavens, an inherent state of being where, as Garrison Keillor might say, "all the women are strong, all the men are good-looking and all the children are above average."
Television commercials idealize it, and we do, too, in our social media posts and Christmas letters. We're all strong (or as much as we can be), good-looking (if we work the filters right), and our children are invariably above average. When was the last time you saw a holiday missive that blathered on about the D that little Susie got in chemistry? How often have you seen a Facebook post that showed what a family really looks like when everybody's running late?
That's one of the things I appreciated about Instant Family, a new comedy starring Mark Wahlberg and Rose Byrne (and playing at a theater near you). As the name suggests, the film is about family, what it really means to be a family. And while the movie can be quite funny, it's not always pretty.
The story centers on Pete and Ellen (played by Wahlberg and Byrne), a happily married pair of house-flippers who decide to foster.
Pete's pretty reluctant at first: It's a big responsibility, and he says that foster parents are "the type of people who volunteer when it's not even a holiday. We're not even the type of people who volunteer when it is a holiday!" But he comes around when he figures that, really, taking in a foster child — most of whom come from abusive or seriously neglectful homes — is a little like fixing up a house: A little demo work, some emotional spackle here and there and voila! One transformed child, ready for the world.
"I think we're perfect for this!" he gushes.
"We're not a house, Peter," Ellen reminds him.
House or no, the two ultimately agree to foster not just one, but three children: Cute-but-wild 6-year-old Lita, shy and clumsy Juan, and Lizzy — a headstrong teen who's been the kids' de-facto mom for years.
As Pete and Ellen take their first halting steps toward fostering the threesome, they complain about a lack of a "cosmic connection." "I felt like I was babysitting other people's kids," Ellen complains. Weeks later, as Lita refuses to eat anything but potato chips and Lizzie makes life miserable for everyone, the two fantasize about being able to take them back — return them like a faulty dishwasher. "I hate them so much!" Ellen admits.
The movie, based on director Sean Anders' real-life experience adopting three kids, doesn't sugarcoat the pains that come with building a family from already molded parts: Parenting is really tough even under the most typical of circumstances, but it's even more challenging in a foster situation, particularly when that situation involves a teen well on his or her way to adulthood.
Lizzy pines for her birth mother. For years, she's been in environments where she felt unloved and rejected. We hear stories of other teens in even worse situations: One young woman talks about how her parents converted their garage into a meth lab, and how some of their customers sexually abused her. Kids like that bring more baggage than just their garbage bags full of belongings into a family. They require a special sort of parent.
But the movie reminds us how desperately those special sorts of parents are needed. That same young woman from the meth house unfurls some heartbreaking statistics of what happens to youth who "age out" of the foster system without finding a family: More than half wind up dead, homeless, jobless or addicted to drugs. (If you dig deeper into the stats, they're even more tragic.)
Instant Family is more than just a comedy: It's an invitation to get involved; to take on the heavy mantel of being a parent to a child, or children, who desperately need one.
When Ellen and Pete are at the end of their rope — when they feel like they've failed and that their kids, particularly Lizzy, have failed them — they speak to another foster couple. And they discover that even their family, a family held up as an inspiration in foster care circles, isn't perfect, either.
The mom asks Ellen if she feels frustrated, scared, utterly lost. Ellen says yes.
"That's how your children feel every day of their lives," the mother tells her. Rejected or neglected by their birth parents, shuffled from home to home, by the time foster kids get to be Lizzy's age, they're convinced that no one could ever love them. So they push: Push buttons, push back, and push away.
"Things that matter are hard," the mom reminds Ellen and Pete.
Every parent knows this, but it's easy to forget sometimes. We look at the smiling Facebook pages of friends. We read the glowing Christmas notes. They can make family seem so easy.
My wife was adopted. My sister was, too. Both were welcomed into families who perhaps felt the same stew of emotions that Pete and Ellen did: The anxiety and uncertainty and, one day, the realization of how hard the journey would be.
And yet, out of disparate pieces, families were built. Maybe the "cosmic connection" that Pete so longed for wasn't felt at first: No, like anything worthwhile, it was forged — moment by moment, memory by memory.
Love isn't born: It's made. That's part of its beauty and power.
Instant Family has its problems, of course. The language can be profane at times, and the film has some other content that is not faith or family friendly — parents should be aware of this. But for all its shortcomings, Instant Family moved me. And perhaps it'll move others, too — all the way to finding and building families of their own.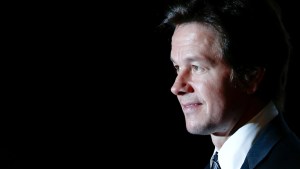 Read more:
Mark Wahlberg reveals his surprising daily prayer routine