The "dark horse" approach challenges all of us, especially parents, to focus on personal talents and unique gifts.
All parents want to see their children succeed. We want our children to be happy, healthy and doing what they were meant to do with their lives. But just what, exactly does success look like?
The world often views success as a very narrow ideal — college degree, good job, big house, early retirement and a yearly Christmas card full of smiling faces enjoying a year of vacations, soccer practices and good vibes.
As Christians, we know that success doesn't always look like this. Jesus had none of those things and his very life was considered the perfect sacrifice for the sins of the entire world. A successful life lived by a Christian is one marked by something very different than just material accumulation or worldly achievements. Christians are led by the desire to do something purposeful for God, to live out our fullest potential and do just what He created us to do — whether that means making art, solving complex mathematical equations, curing disease, or running your own company with excellence, justice and passion. For many of us, though, we have no idea where to start to find our highest calling and live according to our fullest potential. 
Harvard's Todd Rose, author of a new book called Dark Horse: Achieving Success through the Pursuit of Fulfillment, believes he can teach us how. His view of success doesn't necessarily include Ivy League diplomas or 401Ks — rather, it's about accomplishing things that truly matter to each individual, and about being excellent and fulfilled in whatever we choose to pursue. Rather than using a one-size-fits-all, traditional approach that pushes children to succeed in only the "right" things like good grades, college degrees and stable jobs, Rose believes that parents can help children succeed in a more meaningful and fulfilling way by capitalizing on our uniqueness and pursuit of personal satisfaction.
So just how, exactly, can we teach our kids to "follow their dreams," and live out the fullest life that God has called them to, while still encouraging them to be hard-working and excellent at whatever they choose to do? How exactly can we inspire them towards a "Dark Horse" mentality where the end goal isn't the money, rewards or accomplishments but the work itself?
I interviewed Mr. Rose about his theory and new book — his expert tips are below.  
Get to know them
Rose says that the "dark horse" mindset begins with an understanding of what truly motivates each person. According to Rose, "we can help our children discover this, and it starts with simply asking them. That sounds simple, but how often do we really ask our kids what matters to them and why? We spend more time telling them what they should care about than we do helping them discover it for themselves. That means not simply asking "How was school?" or "How was soccer?" but "What do you like about these things? And why? Our children need to have this kind of self-knowledge if they want to live a fulfilling life."
Measure success differently
Our preconceived notions of success may not fit what our children actually desire from their own lives, and that's probably for the best. Rose says that "success is about accomplishing things that truly matter to you – it is about being excellent and fulfilled. It is always personal (what really matters to me may not matter to anyone else), and it is never comparative (simply being better than someone else does not make you successful). From years of studying people who pursue fulfillment over conventional notions of success, the things that stand out to me are how happy they are, how confident they are in themselves, and how much of desire they have to want other people to feel the way they do."
Focus on what matters to them
Maybe your kid is really into horseback riding, astronomy, kayaking or baking — encourage their passions, even if you can't quite see how they might lead to your notion of "success." None of these hobbies are your typical violin lessons or math tutoring of "Tiger Mom" calendar, but they're valuable if your child finds meaning in them. According to Rose, "the dark horse mindset is about taking your own individuality seriously, and learning how to harness that to pursue fulfillment and achieve success. I believe it is something that is available to anyone, no matter where you are starting from, how old you are, or what you are striving to accomplish. Dark horses think about this differently: they focus on what matters to them, what truly motivates them, and build their identity off of that."
Consider the benefits
Still not convinced that allowing or even encouraging the "dark horse" mentality is right for you and your family? We all know people who were driven into medicine, engineering, law or other fields by well-meaning parents, who don't actually love their professions (and may even hate their jobs!). In addition to having children who grow up to be adults who thrive in and enjoy their passions, Rose "believe[s] that we will have a more thriving society because people will be more engaged in what they do. The research is clear that engagement leads to greater productivity and creativity. Second, and most important, I would expect to see greater happiness and harmony, since if we are teaching our children to focus on getting better at things that matter to them, instead of trying to be better than the kid sitting next to them, [they will] no longer have to see each other as competitors."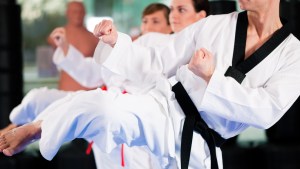 Read more:
Trying to master a new skill? This technique is the secret to success