Dorothy Sayers could be writing a manifesto for the New Evangelization, even though she wasn't a Catholic.
Need an idea for Lenten almsgiving?
Help us spread faith on the internet. Would you consider donating just $10, so we can continue creating free, uplifting content?
Make a Lenten donation here
She could be writing a manifesto for the New Evangelization, even though she wasn't a Catholic. Dorothy Sayers basically said: Look, this stuff is amazing and even we Christians don't see it. If we did see it, we could change the world. "Let us, in Heaven's name," she once wrote, "drag out the Divine Drama from under the dreadful accumulation of slipshod thinking and trashy sentiment heaped upon it, and set it on an open stage to startle the world."
The world knows her as the author of the 11 Lord Peter Wimsey mystery stories. She's up there with G.K. Chesterton, Ronald Knox, and her friend C.S. Lewis. The Wimsey stories were the warm-up to her real life's work, which included a number of theological books and essays, several religious plays, a BBC production of the life of Christ called The Man Born to Be King, and a translation of Dante's Divine Comedy.
Born in 1893, she grew up the daughter of an Anglican minister, but doesn't seem to have taken religion seriously till she got older. (Here's a good short biography.) She remained a Protestant, and alas, never seems to have been interested in the Catholic Church.
The Greatest Drama
She makes us see the truths we think we see clearly but don't always. I'll quote from just two short essays she wrote in the 1940s: "The Greatest Drama Ever Staged" and "The Dogma Is the Drama." You can find them in her small book Creed or Chaos?
In "Greatest Drama," she notes that Christians believe Jesus is both fully God and fully man. Yes, of course, we will say. Everyone knows that.
No, we don't really, Sayers would say. Think what it means. It means "that for whatever reason God chose to make man as he is — limited and suffering and subject to sorrows and death — He had the honesty and the courage to take His own medicine."
Whatever game He is playing with His creation, He has kept His own rules and played fair. He can exact nothing from man that He has not exacted from Himself. He has Himself gone through the whole of human experience, from the trivial irritations of family life and the cramping restrictions of hard work and lack of money to the worst horrors of pain and humiliation, defeat, despair and death. When He was a man, He played the man. He was born in poverty and died in disgrace and thought it well worth while.
We may believe this in our heads. But we don't always really see it. We don't feel it the way we would if we really believed it. At least I don't.
The world doesn't see it either. "Dogma" offers a very funny Q&A catechism of what the people of her day thought Christianity believes. Like this answer to what Jesus was like "in real life": "He was a good man — so good as to be called the Son of God. … He was meek and mild and preached a simple religion of love and pacifism. He had no sense of humor. … If we try to live like Him, God the Father will let us off being damned hereafter and only have us tortured in this life instead."
Most people know even less about Jesus now, and they're more bitterly critical of Christianity. But they still think of Jesus as good guy, like Gandhi or Martin Luther King, Jr. But just a good guy. Not the dramatic figure Sayers describes.
The world doesn't believe us
She wouldn't be surprised, Sayers says, to find people who know Christian doctrine and reject it. Hers was already "a nominally Christian country." She's startled by "how many people there are who heartily dislike and despise Christianity without having the faintest notion what it is. If you tell them, they cannot believe you."
Not because they can't believe it. "They simply cannot believe that anything so interesting, so exciting, and so dramatic can be the orthodox Creed of the Church." The problem is Christians. Her Q&A catechism includes this scathing line: "Q: What are the seven Christian virtues? A: Respectability; childishness; mental timidity; dullness; sentimentality; censoriousness; and depression of spirits."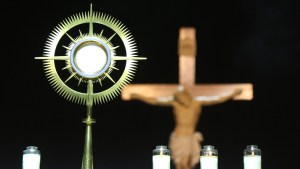 Read more:
How I began to believe that the Eucharist really is Jesus
Christians try to make Jesus inoffensive. In effect (this is me, not Sayers), we try to sell him to the culture by making him more worldly. "Surely," Sayers says, tartly, "it is not the business of the Church to adapt Christ to men, but to adapt men to Christ."
As she says at the end of "Greatest Drama": We may call Christian doctrine "exhilarating or we may call it devastating; we may call it revelation or we may call it rubbish; but if we call it dull, then words have no meaning at all."
That God should play the tyrant over man is a dismal story of unrelieved oppression; that man should play the tyrant over man is the usual dreary record of human futility; but that man should play the tyrant over God and find Him a better man than himself is an astonishing drama indeed. Any journalist, hearing of it for the first time, would recognize it as News; those who did hear it for the first time actually called it News, and good news at that; though we are apt to forget that the word Gospel ever meant anything so sensational.