If we begin our tasks with peace and calm, we will often end our work day that way, too.
How often do you accomplish your work from a place of peace? I'd venture a guess that, at least on somedays, work is more likely to be accomplished from a place of hurry, anxiety, and possibly fatigue. We might be so busy that we think working from a place of peace is too much to hope for. But taking just a couple of minutes to meditate on our work before actually getting started can make all the difference.
Here's a prayer to help you get started …
Heavenly Father, thank You for this day and for the ability to do the work that I will take on today. I know that I accomplish nothing without Your grace, and I trust that You will sustain me in all I do. If You are not with me in this work, then it will profit me nothing; nevertheless, I know that because I surrender my works to You, You will be with me in all I do, in my successes and in my failures. I ask that You grant me peace to begin this day ready to respond to Your Most Holy Will and ready to love every person You have set in my path. St. Joseph the Worker, prayer for us.Our Lady Immaculate, pray for us.Amen.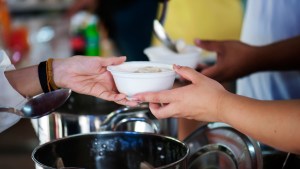 Read more:
Do I still need to pray if my good works "are a prayer"?