Burnout is real, so here's the way to recognize it and head it off at the pass.
I didn't realize I was a perfectionist until I started working outside the home. When I stayed home, my house was never spotless, never wonderfully organized, and my children weren't immaculately clothed, so I didn't think of myself as a perfectionist. And I wasn't — at least at home.
At work, however, it's been an entirely different story. Not only have I had to face my perfectionist tendencies, I've also had to face the fact that those tendencies are triggered by the absolute stupidest things and end up making everything worse instead of better.
For example, I spent an absurd amount of time one Sunday trying to figure out how to use a mail merge form to make my email communication more efficient. We were just kicking off our biggest promo of the year, and with 90 new campers to connect with I kept thinking about how much time mastering this technique would save me in the long term — but in the short term, I wasted an entire day and still had a pile of emails to send out.
I ended up going to bed way later than I should have that night, and started a big week running on two hours of sleep. By Wednesday, I was so beat down and burned out that tears started rolling down my face the second I got into my car. I couldn't explain it — I wasn't sad, and it wasn't like I was really crying. My eyes just kept leaking tears every time I was behind the steering wheel and heading to work. Up until this point I had been invariably excited about work, so this new development was alarming and honestly kind of frightening.
I started worrying that I was sliding into depression or heading for a mental breakdown, until I showed up to a meeting where a teammate took one look at my face and said, "You're burned out, girl." As it turns out, I was indeed burned out — something I had never really understood in a workplace context before, but that's an actual phenomenon studied by psychologists like Ellen Hendriksen, who explained the difference between burnout and depression to Medium:
Burnout, in many ways, feels similar to depression. But while the two share many traits, burnout tends to be more situational than depression's all-encompassing state of gray. "If people feel like an anvil has landed on them at work but perk up at their soccer league or cooking class, then it is likely not depression," Hendriksen says. "Depression colors every area of life, but burnout can be more job-specific. It bleeds over, but there is some contrast …" Robert Taibbi, a licensed clinical social worker and the author of several books on mental health, says it's important to suss out how your specific workplace habits might be affecting your happiness. "It's about looking at your personality," Taibbi says. "What does your job require? How much into control are you? Do you have a hard time delegating and getting help on things? Do you get obsessed because you tend to be perfectionistic?" If you tend to procrastinate, for instance, endlessly battling last-minute deadlines might be the root of your burnout. If you feel like you've taken on too much but don't want to assign tasks to others, maybe that's what's causing your issues.
I couldn't risk getting seriously burned out, because I couldn't afford to take time off, so I did the next best thing. I finished out that day, went to bed as early as possible, and went straight back to bed after I took the kids to school the following morning. I never have camp on Tuesday and Thursday, so I use those days to catch up and get ahead on everything else. But I gave myself that Thursday off to rest and reset, and the next day I spent some time asking my teammates how they streamline communication.
Then I did something really amazing. Instead of choosing the idea that seemed the most perfect to me, I picked the one that seemed the easiest. This went against every fiber of my being, but I knew I had to prioritize. And one of my priorities rapidly became avoiding tasks where I might get lost in the details, like I did with the mail merge form.
I can't quite express how much easier work — and life! — has been since I let go of the obsession with finding the most perfect way of doing everything, and settled with finding the best way to just get it done. I've actually managed to accomplish things I hadn't thought I would accomplish for months, and I'm starting to lose the frazzled, panicked sense of always being behind.
What I haven't managed to do, though, is figure out how to get that streak of perfectionism to help me out when it comes to things like getting the laundry done, or making sure the children's lunches are packed. Unlike the mail merge form, that's an area where I could really use a little jump-start of perfectionism.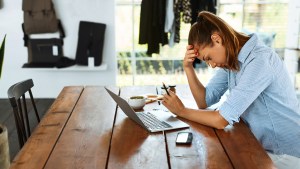 Read more:
Perfectionism doesn't look like we think it does