His dog was diagnosed with terminal cancer, so he took him on one more adventure on the way to a very meaningful place.
Need an idea for Lenten almsgiving?
Help us spread faith on the internet. Would you consider donating just $10, so we can continue creating free, uplifting content?
Make a Lenten donation here
Paul Heroux, the mayor of Attleboro, Massachusetts, had Mura for nearly 10 years when she was diagnosed with terminal blood cancer. Having raised her since she was 8 weeks old, Heroux had formed a beautiful bond with his Japanese wolf dog. On hearing the news, he decided to cancel his previous vacation plans and take Mura on a cross-country road trip to the place of her birth: Vancouver Island.
"I wanted to bring her back to where she was born. I wanted to see it for myself," he said.
Dogs make the world tolerable. If you agree, you will LOVE this article. Despite all of the noise, kind and wonderful people are abundant, we just have to look.

Massachusetts mayor takes dog dying of cancer on cross-country road trip | Fox News https://t.co/HWxfNdrKdb

— Stephen Loyd, MD (@drstephenloyd) November 11, 2018
They passed through 24 states, stopping at sites such as the Grand Canyon and Mount Rushmore.
"I didn't set out to make a point," he said. "I just went for a ride with my dog."
Long called "man's best friend," dogs are invaluable companions given by the Creator to human beings. They assist us with many tasks, provide help and support, and bring a lot of joy. Heroux's decision to take this meaningful trek with Mura is a testament to that.
Japanese wolf dog Mura has terminal blood cancer and only months left to live. So her owner is making the most of the time they have left, beginning with going on the ultimate cross-country road trip together. https://t.co/lWGErwRvoX

— Audacy (@Audacy) November 12, 2018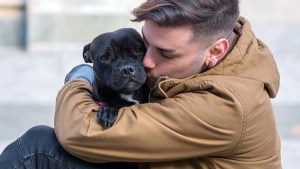 Read more:
Why pets are good for your body and soul