The phrase has a long history and follows a tradition that dates to before the time of Jesus Christ.
Giving thanks to God for a meal has a long history, stretching all the way back to early biblical times. In the book of Deuteronomy God said, "And you shall eat and be full, and you shall bless the Lord your God" (Deuteronomy 8:10).
King David similarly gave thanks to God for food, "he who gives food to all flesh, for his steadfast love endures for ever. O give thanks to the God of heaven, for his steadfast love endures for ever" (Psalm 136:25-26).
Even Jesus engaged in such a practice, as can be seen at the Last Supper, "And he took bread, and when he had given thanks he broke it and gave it to them" (Luke 22:19).
The word "thanks" in modern English has a rich history, one that is ultimately derived from a Latin word. According to the Catholic Encyclopedia, "The word grace, which, as applied to prayer over food, always in pre-Elizabethan English took the plural form graces, means nothing but thanksgiving. (Cf. the Latin gratiarum actio and the Italian grazie, 'thanks.')"
While the word "grace" is most often tied to the definition of "unmerited divine assistance given to humans," it is historically connected to "giving thanks" to God before or after a meal. In a certain sense, this is not surprising as the food we eat is often given to us through no effort of our own. Food is a great gift that sustains us and keeps us alive and God is the ultimate creator of it all, providing everything that we eat.
Our food can be seen as a "grace," and so it is fitting that we call giving thanks to God for it "saying grace."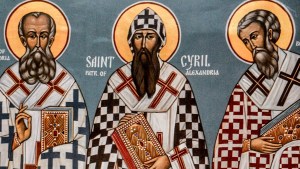 Read more:
A Thanksgiving meal prayer from the 4th century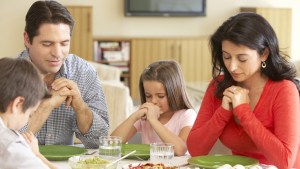 Read more:
Here is how many Eastern Christians bless their meals