These monks were killed alongside so many thousands of Algerians
Need an idea for Lenten almsgiving?
Help us spread faith on the internet. Would you consider donating just $10, so we can continue creating free, uplifting content?
Make a Lenten donation here
The beatification of the Algerian martyrs — of Of Gods and Men fame — next December 8 in Oran will be the first time the Church beatifies martyrs in a Muslim country.
This first, emphasized Father Thomas Georgeon, the postulator for their cause, is a "very strong" message: not about "glorifying the death of Christians at the hands of Muslims, but of celebrating their death alongside those of so many Algerian martyrs."
During the Algerian civil war, 150,000 people died, including many Muslims, some of whom were imams.
Aside from the seven monks, 12 other martyrs will be beatified. One of them is Bishop Pierre Claverie, the bishop of Oran at the time of his death.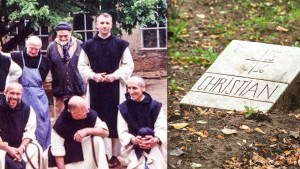 Read more:
This prior felt his vocation at 8, was saved by a Muslim, and went on to give his life for "God and Algeria"
Father Georgeon was speaking at the presentation of a book co-authored by François Vayne: Semplicemente cristiani ("Simply Christians"), published in Italian by the Vatican Publishing Library and presented in Rome this week.
Speaking of the monks' testimony, Vayne said the monastery of Tibhirine was "a regenerative place, like a family home."
For Cardinal Angelo Becciu, prefect of the Congregation for Saints' Causes, and author of the preface, who was also present, the martyrs invite us to "ask ourselves about the state of our faith."
The Tibhirine monks "did not choose to be martyrs but to be, like all Christians, a gift for others." Their example, the cardinal said, must "give us a fresh look at ourselves — if not, reading this book will have been in vain."
Many people come to the monastery every day, testified Vayne, a journalist and director of communication for the Order of the Holy Sepulcher in Jerusalem. He personally knew the monks of Tibhirine during his childhood in Algeria.
Tibhirine means "irrigated gardens" in Berber, and according to him, "their message can irrigate the gardens of our life."
The monastery was "in the image of the humility of the monks of Tibhirine." It was a church that is "poor but rich in love, like those of the first Christians," Vayne added. He knew the prior, Brother Christian de Chergé, as well as the doctor Brother Luc Dochier.
An eminent doctor before entering the order, Brother Luc cared for about 600,000 people in his clinic at Tibhirine, according to Vayne. Both were among the seven monks who were murdered in 1996.
Read more:
Pope Francis: "Using Name of God to Justify Path of Violence; Hatred Is Blasphemy"