In this season of difficult films, it's nice to find some inspiration and entertainment in reality.
We're right in the heart of the cinematic awards season now, where studios big and small unveil their most stylish, most artistic, most important and (some would say) most pretentious Oscar contenders. And you know what that means for the average moviegoer? A lot of very grim, bleak, serious films.
I'm not knocking 'em. These movies can be quite excellent. Still, it's hard to walk out of, say, Beautiful Boy with a smile on your face and a skip in your step. Issues movies rule the roost these days: Films designed to entertain or even seek to inspire have a tougher hill to climb for awards-season glory.
But that said, there's one category of film that provides a welcome, if ironic, change of pace: the documentary.
True, in years past, watching an award-worthy doc has not necessarily made for the most chipper of evenings. Docs, by their very nature, deal with important topics, and many can be troubling, frightening or downright depressing. But this year, many of the most praised and praise-worthy documentaries are meant to encourage, inspire and yes, even entertain. Let me give you a little sampling.
Free Solo
El Capitan is a sheer wall of granite that soars 3,200 feet above the Yosemite Valley — nearly a full kilometer straight up. No one even dared climb its face until 1958, and it took 46 days. Alex Honnold plans to do it in around four hours… without a rope. Free Solo, just released and playing in just a handful of theaters across the country in preparation for an Oscar run, was the scariest film I've seen all year, and part of me worries that it could inspire some to scramble up a cliff before they really know what they're doing. That'd be exactly the opposite lesson of what the film actually wants to communicate. Honnold knows exactly what he's doing, and watching him prepare for his dangerous assault on El Cap is both fascinating and sobering. This stunningly filmed doc educates, inspires and thrills.
Science Fair
It's easy to feel a bit gloomy about the state of the world right now. Poverty. Opioids. Rampant cultural sexualization. The befuddling, anxious influence of social media. We worry especially about our children, and let's face it: We should. But Science Fair — a wonderful, intimate doc from National Geographic — gives us a more encouraging look at youth today, a glimpse at some young men and women who acknowledge they're living in a troubling world and are determined to change it. They've got the brains and drive to do it, too. Science Fair is a geeky, optimistic look at some geeky, optimistic youngsters competing in the Olympics of Science and engineering fairs. And once the credits roll, you might just say to yourself, you know what? The future's in pretty good hands. It, like Free Solo, is playing in select theaters in the quest for a well-deserved Oscar nom.
Summer in the Forest
I've written about this beautiful documentary before, but Randall Wright's affecting look at the work of L'Arch and its founder, Jean Vanier, is worth calling out again. Catering to those dealing with profound mental challenges, L'Arche treats people who'd otherwise be discarded with respect and love. It's not just a model for how to care for people often marginalized in our society, but maybe offers just a little reflection of heaven. You can rent Summer in the Forest for $4.99 from Amazon Prime.
Intelligent Lives
In days gone by, they were called "feeble minded." Separated from the rest of society based on IQ scores—scores that even the test's founder said were imperfectly understood and could change with time—the mentally impaired were warehoused in facilities that looked more like prisons, than the schools they were originally intended to be. Things are changing now, as this moving look at three mentally impaired individuals suggests. One's an artist, another works at a beauty salon. Still another—a man with a tested IQ score of 40—even graduates from a special program at Syracuse University. Narrated by Sam Shepherd (whose own son suffered from disability), Intelligent Lives gives us a moving look at some very unique individuals. It shows us how far we've come—and how much work we have yet to do.
Won't You Be My Neighbor?
One of my favorite movies of the year, Won't You Be My Neighbor? gives us a loving portrait of Mister Fred Rogers, the guy who made nice cool (sort of). The ordained minister used public television as a pulpit to preach a gospel of kindness and respect — something all too lacking in our shrill, angry culture. After watching this doc, many might say that we could sure use Mister Rogers (who died in 2003) in our world today. To that, Rogers might tell us — kindly, gently — that he taught us all we need to know to carry on his legacy. You can rent Won't You Be My Neighbor on YouTube beginning at $3.99, or on Amazon Prime and Google Play for $5.99.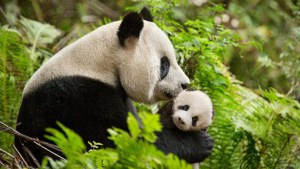 Read more:
5 Beautiful documentaries to help your kids fall in love with nature