Getting our minds off of ourselves and onto others can be good not only for the mind, but the body as well.
This summer I ran a 5K Warrior Dash with my 14-year old daughter. It was one of those races that includes jumping over strips of fire, climbing obstacles, and wading through pits of waist-deep mud. For a few months before the race, motivated by a quiet terror that I might be left straggling behind my daughter's muddy trail and not finish, I ran – regularly.
I don't love to run — or do any kind of intense physical workout, for that matter. I love the pumped-up feeling after a workout, but the getting started part? I'll sit and think about that one a little longer. And maybe plan a start time for tomorrow.
But my sweet daughter had begged me to do the run with her. And oddly enough, once I committed, the date was marked on the calendar, and I saw how excited she was for us to do it together, training for it suddenly became much easier – and almost enjoyable.
I was reminded of that experience recently when I came across a new study out of the University of Pennsylvania showing that people are more receptive to messages promoting positive health changes when their thoughts extend beyond themselves and onto something bigger – such as people that they loved and cared about. A group of 220 sedentary adults became significantly more receptive to positive health messages – and actually became more active – when their minds were primed, prior to receiving the messages, to think beyond themselves and to focus on those things that are most important to them.
Senior study author Emily Falk says, "If you let people first 'zoom out' and think about the things and people that matter most to them, then they see that their self-concept and self-worth aren't tied to this particular behavior – in this case, their lack of physical activity." Having the sense that we are connected to something valuable outside of ourselves, is key.
Lead author Yoona Kang also points out that, "People are capable of doing things for their loved ones that they'd probably never do for themselves. The idea of self-transcendence – caring for others beyond one's own self-interest – is a potentially powerful source of change."
It turns out that relating to a cause that is greater than our own personal benefit, can be a great motivator and a powerful force for change, even leading to positive heath changes.
Researchers are so intrigued by the results of the study that they are testing a phone app for the general public that would send paired messages – one self-affirming and one health-oriented, like those used in the study.
I agreed to do the run with my daughter this past summer because I love her and wanted to share a memorable experience with her. But even though I personally benefited from the training and the run itself, and I was in better shape than I'd been for months and felt great, I really didn't do it for myself. Ultimately, love for my daughter was the motivating factor. It turns out that getting our minds off of ourselves and onto others can be good not only for the mind, but the body as well.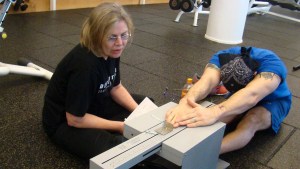 Read more:
3 Ingenious ways to combine exercise and prayer, and find time for both