A child is no less remembered and loved when his parents keep his memory private in the secret of their hearts...
You never, never want to force your way into somebody else's private sorrow. I did it once, by mistake, to a mom I was chatting with at the library once. She had a vivacious one-year-old daughter, and she was telling me how she was glad she had never taken down the baby-proofing measures she installed for her son.
"Oh, you have a son! How old is he?" I asked. A hollow look that I didn't understand flashed across her face.  
"He would have been four."
She jumped to move the conversation past it. She clearly didn't want me to ask any more questions. She didn't want me to see her differently. She just wanted to have a chat with another mom at the library, and not invite me into a grief which I have no capacity to even imagine.
Later, I realized, she must find herself in that position pretty often — not willing to act like he never existed, and not willing to tell total strangers her story.
I remember her whenever somebody asks me how many children I have. I never lost a child I've met, but my miscarriage was real, and traumatic. Although the question is innocent, usually just small-talk, it's a question that gives a lot of mothers pause.
In a moving article about the Silent Grief of Miscarriage, Amanda Czerniawski describes her own experience with that question:
I admit that I cringe when anyone asks me how many children I have. How do I respond? If I say one, I feel like I am betraying the memory of my daughter. If I say two, it requires an explanation that makes people uncomfortable.

I have become accustomed to responding with, "one on earth and one in heaven." I never need to explain further, for I am more often than not met with a simple nod or comforting gesture by other women. Their eyes, however, betray a silent understanding. We share a special secret as mothers.
Amanda didn't want to let the world disregard the reality of her child's life. She didn't want to stay silent about her child, just because people might uncomfortable with the answer.
Tara Rigg, writing on The Heartbreak Of The Question 'How Many Children Do You Have?' has a different answer, though. Driving home from the hospital after delivering the body of their son, Tara writes,
I asked my husband, "What will we say when people ask how many kids we have?" He answered thoughtfully, "We only have three. We only have three here with us."
For a time, she felt guilty about that response:
Other loss moms encouraged me to speak Beau's name and to tell people I have four children, in order to properly honor him. [I worried that] if I didn't count him, then I was forgetting him. …I tried it out a few times. I cried every time I said his name aloud, and this was no different. So there I was, standing in front of a person I had just met, crying, grieving, and pouring out, in order to provide them with an answer I had been pushed into giving. It wasn't working for me.
These two different approaches, both from mothers who loved their children fiercely, reminds me that there's no right way to answer so personal a question. If you want to honor your child by reminding the world that he's in heaven, still your child, still loved, then yes — speak his name. Don't be afraid to include him in your family's number.
But if it's too much to bring it up again and again, if it's not something you feel comfortable sharing yet, please don't worry about not witnessing to the life your child had. Nobody has a right to hear your story, not unless you chose to tell it. A child is no less honored, no less remembered and loved, when his parents keep his memory private, in the secret of their hearts.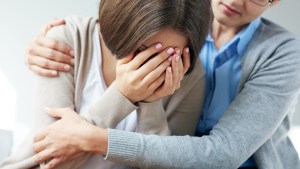 Read more:
What to say to a mom after a miscarriage