It's no wonder the Church saw fit to introduce this Solemnity of Christ the King to a world that was losing this sense of wonder ...
It's an odd weekend for Americans. On Thursday we celebrated Thanksgiving, a harvest holiday like many others across the globe but with decidedly American undertones—not just overconsumption and football, but a celebration of the Pilgrims' arrival on this continent and, ultimately, of America. This Sunday, we'll all shake ourselves out of our tryptophan comas and head to Mass to celebrate Jesus Christ, the King of the Universe—a title that rolls off the tongue naturally for Catholics but may not speak to the heart.
Royalty isn't something we understand as Americans. Indeed, few in today's world pay homage to a king or queen who rules absolutely, as monarchs did of old. For those whose forebears deliberately overthrew their rulers, the idea of a kingdom is quaint and romantic at best, oppressive at worst. We have no real concept of lifelong loyalty to one ruler, no patience with the pomp and circumstance that surround royal events, no thrill in the presence of a monarch beyond some passing fancy for one celebrity or another.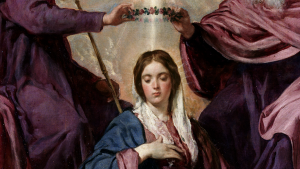 Read more:
We're called to join the army of this "Warrior Queen"
This can be particularly tricky for Catholics, who may struggle with the formality and ceremony of the Mass, not having any experience of such exalted occasions outside a church. Even worse, we may begin to treat God as our president, not our king—one to be supported as long as he conforms to our desires, openly opposed when he doesn't, and voted out of office if he fails to meet our expectations.
It's no wonder the Church saw fit to introduce this Solemnity of Christ the King to a world that was losing this sense of wonder and awe, of absolute obedience, of loyalty and love. Perhaps no earthly king or queen deserves the reverence monarchs received in days gone by, but the model that system gave us taught us about Christ and it taught us about his Mother.
If Christ is the King of the Universe, that makes Mary the Queen. In ancient Israel and Judah, the queen wasn't the wife of the king but his mother; in her role as queen mother, she held a real political office, and a powerful one. She was given a throne beside her son the king, tasked with interceding for the people, and so honored that even her son paid her homage. All this is evident from the first book of Kings: when Bathsheba approached her husband King David, she came to him as a supplicant, as a subject bowing before him (1 Kgs 1:31); later, when her son Solomon was king, he paid her homage and called a throne to be brought and placed at his right side (1 Kgs 2:19).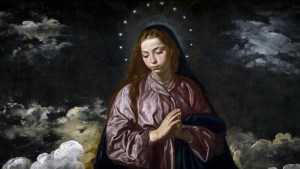 Read more:
A Jewish perspective on the queen of all these saints we're celebrating
Still, Bathsheba wasn't isolated in her palace, caught up in the rituals of royalty. The one time we see her after David's death, she was interceding on behalf of one of Solomon's subjects (1 Kgs 2:21), just as Mary's only words after Jesus began his public ministry were an intercessory plea at Cana (Jn 2:3). Bathsheba, Queen Mother of Israel, was the royal object of honor and loyalty, but above all she was an intercessor.
Mary, too, is crowned with twelve stars and sits in royal splendor at the right hand of her Son, the King of the Universe. She, too, longs to bring our requests to the Lord. She is Queen of the Universe, but she's also queen of the humdrum: of Hillcrest Drive, queen of glitching websites and head lice and holiday traffic and pulled muscles. She's queen as Victoria was, queen of an empire over which the sun never sets, but she's also the queen out of storybooks, who knows each of her subjects by name and enters into their struggles.
It is a beautiful thing to know Mary as our Mother, but centuries of Christians have know her also as Queen, have bowed awestruck before her, have thrilled at the idea that she would condescend to notice them. Fairy tales with pure and beautiful queens have much to teach us about the way we ought to feel about our Immaculate Mother and Queen. They baptize the imagination to see her as we saw Belle or Aurora, as our children see Elsa. What if we delighted in her love as little girls delight in meeting their princess heroes at Disneyworld? What if we chose to see her through their eyes?
This Sunday, we celebrate Jesus as King of the Universe. How blessed we are that in ascending his throne on Calvary he elevated his sorrowful Mother to be our Queen. May we thrill at her majesty as well as finding comfort in her tender love.
Our Lady, Queen of the Universe, pray for us!
Read more:
7 Queens, princesses and royal women who were saints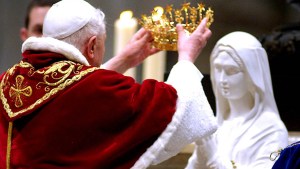 Read more:
Why queens wear a crown, and why Mary does