There are 6 ways we respond to stress -- do you know how you do it?
There were a few months during my junior year of college when the second I got into the classroom, I'd feel this wave of overwhelming exhaustion. It didn't make any sense. I was getting plenty of regular sleep, and I was drinking huge amounts of coffee before — and during — class. And yet, I couldn't keep my eyes open. Literally.
I was going through a breakup, and my mental health was tanking, so I figured it was related but I never knew how — until today when I found the missing piece of the puzzle. It turns out I have my "stress personality" to blame.
What do you think of when you imagine a person under huge amounts of stress? They're probably anxious, right, or they're constantly snapping at everyone? These are actually only a few of the ways that people respond to stress.
As Katie Heaney over at The Cut reports, there are actually six ways we might react under stress:
According to Dr. Curtis Reisinger, clinical psychologist at Zucker Hillside Hospital, the classic "

fight

or

flight

" binary is oversimplified; there are actually a number of evolutionarily adaptive ways human beings might respond to stress or danger. "There's also a '

freeze'

response — sort of like a deer in the headlights, they get stunned," says Reisinger. "A similar one is '

flooding

,' where the person gets flooded with emotions. And then the other one is what's called the '

fawn'

response … The fawn response refers to the inclination to cooperate or submit oneself to one's threat or captor. And then there's the final F:

fatigue

."
To my eternal delight, I found the same six stress responses described in (of all places!) a training manual for helicopter pilots. The author, Phil Croucher, lays out our six responses to stress like this:
Fighting a threat

Flight from a threat

Freezing and not reacting to a threat

Flooding: being overcome with emotion

Fawn: submitting and being compliant

Fatigue: feeling very tired and needing sleep in response to a threat
I recognize myself in all of those a bit. Like most systems of categorizing personalities, not a lot of people will find themselves to be a 100 percent perfect fit.  But a few of those stress personalities jump out at me as my usual responses to whatever I find overwhelming. I also suspect that different kinds of stress bring out different reactions in me. Relationship stress makes me want to fall asleep. When the kids are freaking out and the sink is full of dishes, I'm much more likely to go into "fight" mode. The stress of being in a new environment with new people makes me go into full on "fawn" mode.
These categories are a huge help, though. For one thing, when I'm aware that my periodic exhaustion is part of how my brain copes with stress, I don't have to wonder what's wrong with me. I can focus on dealing with the source of the stress, and know that the exhaustion will take care of itself. Or if I'm furious, it helps me remember that I'm not actually angry, I'm stressed out. It also helps me understand other people's behavior better. Just because I don't freeze up when I'm under stress doesn't mean you don't, and when I understand that, it helps me to be more compassionate.
So what about you? What is your stress personality?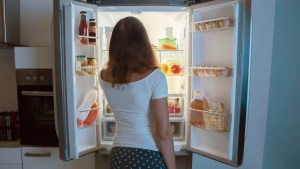 Read more:
What to do when nerves, stress, or sadness push you toward the fridge