Knitting is enjoying a renaissance, in part because of its collateral benefits.
It may sound far-fetched, but many experts extoll the virtues of knitting. Knitting is a source of relaxation, well-being, and self-confidence. Better still, knitting a gift for a friend or loved one is evidence of thoughtfulness and care for others. Proponents of knitting say that knitters are likely to be calm, relaxed, fulfilled, generous, and kind.
Knitting for stress relief
Like meditation or sports, knitting for a few minutes relieves stress after a long day of work. Because of its benefits, it's often called the "new yoga." Formerly considered the domain of grandmothers, it's becoming popular again with the rise of DIY culture. At the park, on a night out, or alongside a cup of tea, young women everywhere are taking up knitting. It should also be said that, while knitting is generally associated with women nowadays, there's no good reason why; men have knitted in the past, and it's coming back into voguetoday.
Knitting is an education in mindfulness. It teaches focus on the breath, taking time, slowing down to reconnect with the present moment. According to British and American studies on the subject, focusing attention on the hands increases the production of dopamine and serotonin, the happiness hormones, and lowers the stress hormone cortisol.
Knitting as liberator and unifier
Knitting can also help shed addiction to alcohol, cigarettes, or food. Successful knitting requires letting go of distraction and concentrating on the task at hand.
Making a scarf, blanket, or cowl also builds self-confidence. Creating an accessory or article of clothing from scratch is good for the soul. It is deeply satisfying to create something decorative or wearable out of a ball of yarn.
While working alone allows for introspection, knitting can also be a social activity. Taking up a pair of needles means putting down the phone, and can provide opportunities for meaningful conversation.
Knitting as an act of love
Creating a gift for someone else adds another dimension to knitting. Making a hat or a scarf is an act of love thta entails the precious gifts of time and attention. Love is knit into every stitch of a sweater from Grandma, a baby blanket from the local church group, a one of a kind scarf crafted by your beloved.
So, if you're stressed, fighting an addiction, or looking for a way to connect with other people, what are you waiting for? Learn to knit!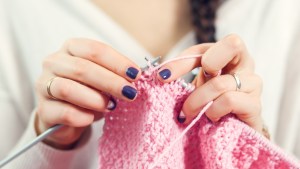 Read more:
Knitting can lower your blood pressure (and make you happier)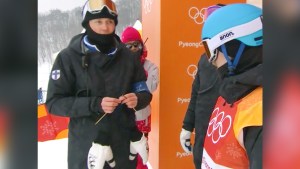 Read more:
Finnish snowboarding coach seen knitting at the top of the course