Could there be any hint of jealousy in Andrew, thinking, "Hey, I said that already!"?
Today is the feast of St. Andrew, and given the time of year his commemoration comes, it would be all to easy for this saint to get lost in the shuffle. The moment we stir out of our Thanksgiving food comas, we're hitting the stores and websites for Black Friday and Cyber Monday deals, pulling out the holiday decorations, and planning our Christmas festivities. There sits St. Andrew in the midst of all this commotion, getting passed over. Which seems to fit a pattern, one that's instructive for us.
When we look at the life of St. Andrew the Apostle, we notice that he's always near the center of things, but not directly in the middle.
St. Andrew was a disciple of St. John the Baptist who followed that last prophet's gesture toward the one whom he called "the Lamb of God." Andrew and Philip catch up with Jesus and ask Him where He is staying. Jesus says, "Come and see." Thus they become the first two followers of Jesus; and indeed, the Eastern tradition of the Church honors Andrew with the title of "Protoclete," that is, the "first called."
Read more:
Patriarch Bartholomew: Christians Already "United by the Blood of Martyrdom"
Yet when the apostles are named, Andrew never leads the list; he holds no seniority in the Apostolic College. Indeed, Jesus eventually chooses three of the apostles as His special companions—but Andrew is not one of them. His brother, Peter, and the brothers James and John accompany Jesus in His most intimate moments. Andrew is passed over.
Andrew likewise does not receive recognition for another key moment. When he comes to tell his brother Simon about Jesus, Andrew says, "We have found the Messiah." (John 1:41) Compare this moment to Matthew 16, when Jesus asks his followers, "Who do you say that I am?" and Peter responds, "You are the Christ, the Son of God." Jesus responds that Peter's answer is a revelation from God, and that Peter will be the rock upon which the Church will be built.
But hadn't Andrew already said that Jesus was the Messiah, the Christ? Was it not Andrew who told Peter who Jesus was? Yet Peter is credited with this insight! It is reminiscent of the student who answers a question in class, but whose response is not heard by the teacher; then another student shares the same answer more loudly, and is praised. Could there be any hint of jealousy in Andrew in that moment, of his thinking, "Hey, I said that already!"?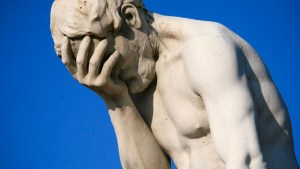 Read more:
Wishing you hadn't done or said that? This saint can help
We may see a parallel in the Old Testament between another famous pair of brothers. Though Aaron is made High Priest of Israel and retains an honored place in the Jewish tradition, he was surpassed by his younger brother Moses, the greatest of the prophets, whom God chose as His instrument to lead the people out of bondage. Yet we often forget it was Aaron who accompanied Moses before pharaoh and actually spoke God's word to him! Moses receives the credit, but he could not have achieved his mission without Aaron.
Yet we never see Aaron asserting his seniority, or begging to be given credit for speaking to pharaoh. Aaron does as God asks, and accepts the tasks he is given, never seeking reward or recompense.
Perhaps we can see Andrew as an exemplar of this sort of humility as well. Just as Andrew's first master, the Baptist, recognized that he must decrease while Jesus increased (John 3:30), so Andrew may have observed that his role was to bring his brother Simon to Jesus, but not to have the office that Peter would be given; Andrew was the quarryman who would bring the rock to Christ, that Christ may shape him into the foundation stone of the Church. And when a great building is constructed, people don't tend to give the same kudos to the men pouring the concrete as they do to the architects.
Now certainly St. Andrew did not fade into anonymity. He is remembered as an Apostle, as a planter of Churches. But, as with many of the apostles, he tends to fade toward the back, outshone by Peter, James, and John.
Yet this is in keeping with the apostolic office. Our Lord instilled in his apostles the mindset of selfless service. Their office is not one of personal glory, but of ministry to Christ and His Church. They are to deny themselves, to take the lowest seat, to wash the feet of their flock.
As we deck the halls and trim our hearths, let us not fail to ask the intercession of one of Christ's most faithful servants, that we might emulate his humility.
Read more:
Praying for humility when you love compliments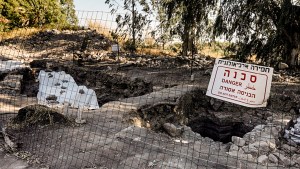 Read more:
Ancient Roman bathhouse leads to the lost home of Jesus' apostles