I decided I'd had enough of Santa after several years of watching Mr. Claus cheat Baby Jesus out of the Christmas Day limelight.
You can get Aleteia inspiration and news in your inbox. Our specially curated newsletter is sent each morning. The best part? It's free.
Sign up here
Christmas time is rapidly approaching. The mere thought of this time of year, and all the impending gift-giving, party preparations, house primping, and culinary feats can quicken my pulse and leave me feeling weary.
Our family makes every attempt to remember the real reason for the season, and most of the time we prevail. But sadly, there have been moments when, pressed by the burden of my holiday to-do list, I've found myself grumbling or snapping at my family. Sometimes, the pressure to observe the holiday — which has come to mean a great deal of shopping, cooking, and frankly, chores — can obscure the actual observing of the holiday.
And then there is good old Santa Claus. Every year, we find ourselves wrestling with this cultural Yuletide giant as we struggle to peacefully celebrate the awe that is the Incarnation. As Christians, our efforts at preparing our hearts, and the hearts of our little ones, for the birth of the Christ Child are often thwarted as this portly fellow steals the show from Thanksgiving onward. How can humble Baby Jesus contend with all those North Pole stories, all the red-nosed reindeer, all the packages of toys tucked under the tree?
Putting Santa in his place
It wasn't always this way: Santa Claus is a modern-day incarnation of St. Nicholas, Bishop of Myra (in contemporary Greece), who lived in the 3rd and 4th centuries. After his death, people gave gifts as a way of recalling the abundant generosity of the saint. While this gift-giving was traditionally done on his feast day, December 6, it has progressively morphed into an essential element of our culture's Christmas morning festivities.
Several years ago, when I was a fledgling mother, I decided I'd had enough of Santa after numerous years of watching Mr. Claus cheat Baby Jesus out of the Christmas Day limelight. I wasn't a card-carrying member of the Catholic Church yet, but I did hit upon the traditional Catholic practice of observing St. Nicholas Day on December 6 as a way of solving my Santa problem.
Ever since then, we've observed St. Nicholas Day as our "Santa" holiday — albeit as a God-loving saint and with pared-down celebrations — and kept Christmas for Christ. Come December 25, our Christmas morning is centered solely on the Nativity of Our Lord, with no surprise appearance of the white-whiskered elf.
The plan for St. Nick
So, practically speaking, how does this play out in our home?
On the evening of December 5, we and our kids snuggle in to read a few picture books on the saint (there are many excellent and well-illustrated ones the whole family will delight in). Then we chat about the real St. Nicholas and compare him to the cultural image of Santa Claus. We are straightforward with our children and let them know we celebrate St. Nick in a way that is different than most other families. This essential point in the conversation prepares them for future encounters with Santa Claus at our local Christmas gatherings.
Just before tucking the little ones in for the night, we help them set out of their shoes with a promised visit from St. Nick. In the true spirit of generosity, they tussle over who sets out the largest pair of shoes we own in hopes of finding more treasure in the morning!
Once the anticipation of the evening has faded and they finally fall asleep, I stuff their shoes with goodies. We keep things very simple here. Chocolates, apricots, gum, and a good book or two to share are the usual loot.
On December 6, after the excitement of the stuffed shoes has worn off, I toss the Advent to-do list for the day and focus on family and fun. We start with a much-anticipated breakfast of St. Nick Pancakes. We trim our cakes with raisin eyes, a strawberry sauce hat, and a whipped cream beard for a no-fuss, playful, delicious, and well-received breakfast. Our homeschool day is lightened or called off all together to make more time for our celebration.
A day of family, faith and service
After the last taste of strawberry sauce is licked off the plates, we find ourselves perched on the couch reading more books on St. Nicholas. Later, we do some Christmas baking as a family, and craft homemade Christmas cards for our extended family.
Our traditions are ever-evolving, and this year, I hope to carry some St. Nicholas generosity outside our home. We are making plans to visit the local nursing home where we'll chat with residents, hand out candy canes, and sing a Christmas carol or two. If the fruits of our baking endeavors are presentable, we may even take goodie trays to our neighbors.
By putting Old St. Nick in his rightful place, I find my Advent to-do list just a bit shorter, making for a more peaceful December not only for me but for my family. Christmas becomes a quiet day of God, family, and rest in our home. With gifts from grandparents, uncles, and aunts, there will still be too many presents to open, but the focus will be on heartfelt giving from one family member to another in honor of Our Lord's birth.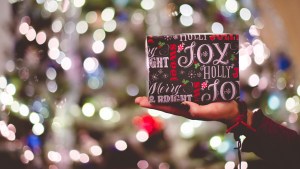 Read more:
Advice from St. Nick himself on how to give better gifts