Here's how to plan ahead so you can focus on what really matters: time with loved ones.
I have a confession to make. Part of me dreads the holiday season.
Okay, maybe dread is a strong word. It's more like a free-floating anxiety that begins around mid-October when I start thinking about everything that needs to get done in the next two months.
There's getting some kind of decent family photo taken for Christmas cards, actually addressing and putting those cards in the mail, getting a tree and making the house look festive, buying gifts for family, friends, teachers, mail carriers, hairdressers and everyone else who crosses your path, wrapping said gifts, and, oh right, planning holiday meals.
And on top of that there's an endless barrage of parties, work events, school concerts and functions for which you need to volunteer or make a treat. By the time December 26 rolls around, all I want to do is curl up in my comfy pants and take a nap.
Surprise: women have a harder time relaxing over the holiday season.
Okay, so it's probably not a surprise to most of you. Because it turns out I'm not alone. Women are more likely than men to feel stress around the holidays, with 44 percent reporting an increase in stress at that time of the year compared to 31 percent of men. The women surveyed said they had a harder time relaxing during the season because they were more likely to take on tasks such as shopping, cooking and cleaning.
The holiday season that starts with the preparation of our hearts during Advent should be a time to unwind and spend quality moments with family and friends, but that's hard to do when you're frazzled and exhausted. So I reached out to some experts for their tips on how to not let an overflowing to-do list zap the joy out of the season.
1. Pare down that list
The first thing to do is decide whether the tasks or events are things that you really want to do or things that you feel obligated to do, says Dr. Christine Carter, sociologist and senior fellow at the University of California, Berkeley's Greater Good Science Center and author of The Sweet Spot and Raising Happiness.
"Often times there are things on our to-do list because they are tradition or make your mother happy," says Dr. Carter. "That is your low-hanging fruit in terms of making your holiday less stressful."
Have a plan for what you want your holiday to look like and use that as your guideline before accepting invitations or taking on projects, suggests Dr. Carter. If you know going out more than two or three nights a week puts you over the edge, graciously decline invitations or any requests that would be too much for you to handle.
"You can just be honest and say, 'I'm so grateful that you've invited me to this but I'm so overwhelmed," she says. "Know that really, what most people want for you is for you to enjoy the Christmas season as well."
2. Don't forget the restorative to-do items
Along the same lines, don't let the mounting tasks of the season keep you from doing activities that make you feel healthy, rested and relaxed. You'll not only feel better, but you'll think clearer — one recent study, from the researchers at the department of kinesiology at the university of Maryland College Park, showed that taking even a week or so off exercise could impact your brain health, so don't skip your regular workout.
Make an appointment with yourself — put exercise or time for reflection on your calendar just as you would a business meeting, and if anyone asks you to do something during that time, well, you're busy.
"Make time, without guilt, to do something for yourself first. Exercise. Take an hour-long bubble bath. Whatever fills you back up and refuels you — do it," says Ria Story, author of Prime Time–The Power of Effective Planning.
3. Start now. Yes, now.
Perhaps one of the biggest sources of feeling overwhelmed (and one that I'm all too familiar with) is waiting until the last minute to get everything done. You don't have to wait until the Christmas decorations hit the stores before you start thinking about the holidays.
Charlotte, North Carolina-based attorney and mother of three Amy Friedli stocks up on gifts year-round so that she can focus her attention on other things during the holidays.
"I pick up Christmas gifts as I see fit usually beginning mid-year," says Friedli. "If preferences or wishes change drastically, I tuck them away for next year or donate to Toys for Tots and feel great about that."
To keep herself prepared for holiday shopping, New Jersey-based writer Kim Bongiorno keeps a running list of all the people she typically buys gifts for on her phone and adds ideas to it as they pop up.
"Whether they actually say, 'I'd love this!' or I see something and immediately think of them, I put it there so when the holidays come back around, gift shopping is much, much easier," says Bongiorno. "Then I order as much I can online, saving me trips to the mall."
It might be too late for that kind of advance planning, but you can set a goal to get all your gifts ordered by a certain date, say, November 1. Online shopping has definitely been a boon for those of us who don't like to set foot in a mall at any time of the year.
4. Errands can be social, too
But if you like to shop in person, this can become part of your holiday tradition — make a fun day out of it. After all, this season is about spending time with loved ones, which includes your friend tribe.
"I like to go shopping with a friend for support and treat ourselves to lunch or a pedicure or something fun, which also counts as that person's gift," says Kristen Gill, a Seattle-based writer and photographer.
5. Experiences, not things
Like Gill, many people enjoy giving experiences rather than store-bought gifts during the holidays. A day of free babysitting or a home-cooked meal can not only be more meaningful to your loved ones, but can also help you manage your holiday spending. And since financial concerns can be one of the leading causes of stress during the holidays, having a budget and sticking to it is key to your peace of mind.
"To avoid the urge to impulse buy, consider leaving your credit cards home while tending to your holiday to-do list," advises Leslie Tayne, debt attorney with Tayne Law Group and author of Life & Debt. "Instead, do your homework on gift prices in advance and bring with you a pre-determined amount of cash for covering only those gift items you have set out to purchase."
6. Wrap as you go
Another pro tip — wrap presents as you buy them. I can't tell you how many Christmas Eves I've spent blurry-eyed while wrapping gifts until midnight. To avoid this, San Francisco Bay area mom Laura Lashinsky transforms her dining table into a temporary gift-wrapping station.
"I stock it with wrapping paper, ribbon, scissors, tape, pens and tags," says Lashinsky. "I try hard to wrap gifts as I buy them so that I don't end up wrapping a million gifts on Christmas Eve and staying up too late to fully enjoy the next day."
7. Address on the fly
As for Christmas cards (if you love them) go for it! I personally enjoy giving and receiving holiday cards — it's an excuse to get a nice family photo taken and I love seeing how all of my friends' families are growing. To save time, take a few cards out with you to address as you're waiting for appointments or have some free time on the train or in the car. You can also keep your holiday card list on your computer, print out mailing labels and have the whole family help stick them on. If it's simply too overwhelming to get done before the holidays, consider doing a New Year's card that goes out after you've finished celebrating the 12 days of Christmas in January, or look at sending online cards through sites like Paperless Post.
Decking the halls doesn't necessarily have to mean lugging a huge tree into your house. A minimalist approach to decorating can be just as festive. Simple touches like branches wrapped in lights on mantles or side tables can create a cheery holiday environment. Or get creative with ideas for alternative Christmas trees.
In the end it's not about presents, cards, or how decked out our houses are, but about enjoying time with our friends and family and really taking a moment to appreciate all that we have around us.
As the late comedian Bob Hope once said, "My idea of Christmas, whether old-fashioned or modern, is very simple: loving others. Come to think of it, why do we have to wait for Christmas to do that?"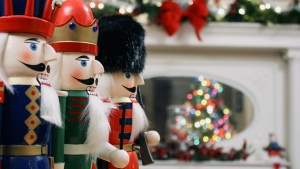 Read more:
Feeling the holiday stress? Here's how to still make Christmas magical