If we take the Holy Spirit as our teacher, and the Gospels as our textbook, there's a good deal to learn about HOW to pray.
The Word of God is one of the normal, ordinary, and effective means by which the Holy Spirit wishes to teach us to pray.
This Aleteia Series is looking at the Signs from John's Gospel as concrete lessons in prayer, taught by the Holy Spirit Himself.
See the series here:
Read more:
What is Jesus doing in the tabernacle? The Bible's answer
Read more:
If the Holy Spirit is your teacher, here is his textbook


Read more:
What memory has to do with learning how to pray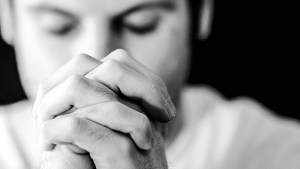 Read more:
Have we been putting this off for 38 years?
The fourth sign (John 6:5-14): Go ahead, take a souvenir from prayer
The fourth sign recorded in the Gospel of John begins with a question. Seeing a large crowd gathering to him on the shores of the Sea of Galilee, Christ asks Philip. "Where can we buy enough food for them to eat?" As John notes, Christ said this to "test him, because he himself knew what he was going to do."
But what was the test? What was Christ searching for in Philip? What was he trying to get Philip to realize?
The question from Christ holds the key. His question is about a possible source of food for the people: "Where can we buy enough food?" A very alert disciple might have noticed that such a question is out of character for Christ, who generally shows no interest in the food service industry in Galilee. It is also a leading question. That is, the question just takes it as a given that buying food is the only possible solution to the problem at hand.
But is it? These are God's chosen people, after all, whose ancestors were fed with manna in the desert by God himself. Ultimately, it is the Lord who provides for his people. There is, in other words, another possible source of food at hand.
Philip either misses the point of the question or is just in a mood for multiplication problems, for he answers only by noting the absurdly high cost of any such attempt: "Two hundred days' wages worth of food would not be enough for each of them to have a little bit." Andrew then attempts to answer Christ's question by noting the presence of a boy "who has five barley loaves and two fish"—i.e. a possible source of food—but Andrew's attention also remains fixated on the insufficiency of any possible natural solution: "But what good are these for so many?"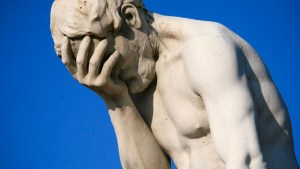 Read more:
Wishing you hadn't done or said that? This saint can help
Luckily for us, Christ takes matters into his own hands at this point. After having the people recline, he gives thanks and distributes the loaves and fish. Not only is there enough for the 5,000 or so people present to eat until they have "had their fill," but there is a superabundance of food. The sign concludes with Christ commanding the apostles to "gather the fragments left over, so that nothing will be wasted." The fragments of five barley loaves and two fish now fill 12 wicker baskets. God, in giving us our "daily bread," does not give us a bare sufficiency—he always gives more than enough.
Yet when it comes to our prayer, we should admit that we often have the mindset of the Apostles Philip and Andrew during their conversation with Christ.
At least privately, in our hearts, we sometimes bemoan the insufficiency of prayer. The little bit of time we manage to carve out for prayer each day just does not seem like enough in the face of life's intense challenges. The glow of prayer fades all too soon, and we revert to our old, tired ways.  
But if it is God who spiritually feeds us, both in the Eucharist and in our personal prayer, then it is safe to assume there is more abundant life in our prayer than we might initially imagine.
Perhaps we just need to be more intentional about trying to extend our prayer into the rest of our day. The final command of Christ to "gather the fragments" suggests one possible technique to us for doing so: We should take a "souvenir" from prayer. That is, we should get in the habit of choosing at least one significant thing from our time of prayer, and then revisit it throughout the day.
A souvenir from prayer could be a scriptural verse that spoke to us, a striking image, a special insight from God, or just a brief prayer that truly expressed what was on our hearts.
As St. Francis de Sales writes, we can call these thoughts to mind during the day, and "spiritually breathe their fragrance."
A priest of my own archdiocese uses the homier analogy of putting a piece of "spiritual beef jerky" in one's pocket, then pulling it out and chewing upon it several hours later in the day. Whatever analogy one prefers, the point is this: We should not let these good things from our prayer "be wasted," but instead, put them to use throughout our day. "Praying constantly" also means being strengthened by prayer, constantly.
Read more:
A brief list of short prayers and invocations to get you through the day