Meditate on these words when you feel sick, tired, or worried.
Pregnancy is a lot harder than I thought it would be.
People keep encouraging me, telling me that the second trimester brings that ever-evasive pregnancy glow. I hope they're right — and we're only a few weeks away from crossing that threshold. But until then, pregnancy is filled with moments that are not so perfect or pretty. Instead of the pregnancy glow, I have a healthy sheen of not showering for days on end.
If you're pregnant and finding yourself stretched emotionally, spiritually and physically, here are some Scripture passages that I've been meditating on lately:
1. For mornings wracked with nausea
Since the first weeks of pregnancy, morning sickness has struck — and "morning sickness" is a misnomer. A better name would be "all the time sickness." Thankfully, I'm on a new medication, and drawing to the close of the first trimester. But there are still mornings that I spend more time in the bathroom then anywhere else in the house.
How can we surrender even the yucky morning sickness over to prayer and to the Lord? There are a few Scripture passages I've found that bring me comfort:
"I have strength for everything through him who empowers me" (Philippians 4:13).
"But he said to me, 'My grace is sufficient for you, for power is made perfect in weakness'. I will rather boast most gladly of my weakness, that the power of Christ may dwell in me" (2 Corinthians 12:8).
His power is made perfect in weakness — yes, even the weakness we experience as moms, hovering near a bathroom lest "morning" sickness strike again. He's not abandoning us, and he isn't giving us something we can't handle with his help.
2. For days when fear overwhelms you
With each passing day of pregnancy after loss, fear grows smaller and smaller. We lost our son, Marion, at eight weeks gestation. The eighth week of this pregnancy left me wondering if it was the last week with this sweet little, too. But we're past the eight week mark and approaching the end of the first trimester. This baby is growing, and we've seen their little heartbeat twice already through ultrasounds.
But there are still days when the "What ifs" sneak up behind me and plague me with the worst case scenario. For those days, I turn to these passages in the Bible:
"Cast all your worries upon him because he cares for you" (1 Peter 5:7)
"Do not fear: I am with you; do not be anxious: I am your God. I will strengthen you, I will help you." (Isaiah 41:10)
Regardless of the outcome of this pregnancy, God has a plan. He willed the life within my womb into existence for a purpose. He won't abandon our family.
3. For when you're wondering how all of this will work out
Every once and a while, I'll allow myself to dream of what life will look like if this baby is born into the world. And while the pregnancy itself has plenty of opportunities for fear and doubt, so does life with a newborn.
What will work look like? How will a little baby affect our marriage? What will community look like after a little is in the picture? For those moments of doubt, when I wonder what life will look like, I turn to this passage:
"You formed my inmost being; you knit me in my mother's womb. I praise you, because I am wonderfully made; wonderful are your works! My very self you know. My bones are not hidden from you, when I was being made in secret, fashioned in the depths of the earth. You eyes saw me unformed; in your book all are written down; my days were shaped, before one came to be" (Psalm 139:13-16).
I love knowing that the Lord looks down and sees even the tiniest details of this little life – he knows of their very bones being fused together. He not only has a plan for this pregnancy, he has a plan for our life after pregnancy. I have to trust him with that plan.
4. For the minutes in the waiting room before the appointment
Before this pregnancy, the doctor's office seemed to always carry bad news with it. Losing Marion, low progesterone, infertility appointments. Now with this little person growing inside me, it's hard to believe that appointments bring good news of growth, heartbeats, and healthy hormone levels.
It's the few minutes that we spend in the waiting room that can be the toughest. Surrounded by healthy women with their littles running around, it's easy to give into the fear that bad news will come crashing down and you won't leave the waiting room in the same state of mind that you came in.
So for those minutes that are sometimes gripped in fear, I love this passage of Scripture:
"He has no fear of bad news; his heart is steadfast in the Lord. His heart is secure, he will have no fear; in the end he will look in triumph on his foes" (Psalm 112:7).
5. For the moment of surrender
We don't know how long we'll be blessed with this little life growing inside of me. We pray that God will bring us to the day of Baptism with this sweet little. I pray nightly that we'll have a healthy pregnancy and delivery, and be blessed with being able to bring this baby home and snuggle with him or her. But nothing is a guarantee.
As a mom, I have two choices. I can clench my plans for this baby close to my heart, keeping God out with a mama-bear strong grip. Or I can open my hands, letting my plans fall to the ground, knowing that he is going to work wonders.
So for that moment of surrender, which is not just one moment but a continuous decision, I love this passage:
"Give your burdens to the Lord, and he will take care of you. He will not permit the godly to slip and fall" (Psalm 55:22).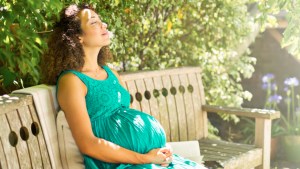 Read more:
Is your pregnancy tempting you to worry? Here's how to push that aside