The story of this fair maiden who was locked away in a tower has been refashioned many times over.
What can God do in your life with one Bible verse a day?
Subscribe to Aleteia's new service and bring Scripture into your morning:
Just one verse each day.
Click to bring God's word to your inbox
The story of Rapunzel, a popular fairy tale from the Brothers Grimm, has captivated the imagination of children for centuries and has most recently been brought to life by Disney through the movie Tangled.
Interestingly enough, the tragic story of a beautiful princess locked away in a tall tower is based on the story of St. Barbara, a holy virgin who lived in the 3rd century. Her life is narrated in the medieval book The Golden Legend and has many similarities to the popular adaptations.
There was a rich man [whose name was] Dioscorus. This Dioscorus had a young daughter which was named Barbara, for whom he [made] a high and strong tower in which he [kept] Barbara, to the end that no man should see her because of her great beauty.
Nevertheless, many princes came to call upon Barbara and desired her hand in marriage. Barbara refused to be married and dedicated herself to God.
When her father was off on business Barbara installed a third window in her tower in honor of the Blessed Trinity. When her father returned, she showed to him the new window and professed to him her Christian faith.
This greatly angered her pagan father, who immediately drew his sword to kill his own daughter. Barbara swiftly prayed to God, who answered her prayer and miraculously opened a hole in the tower for her to escape.
She was eventually discovered and suffered cruel treatment for her Christianity. Barbara died a martyr's death, beheaded by her father. It is said that shortly after Barbara's death, her father was killed by a bolt of lightning.
On account of this story, Barbara became a patron saint to be invoked against lightning and explosives, and by extension she became the patron saint of artillerymen and miners (because of their use of explosives in digging). Many of the 33 Chilean miners who were trapped for two months underground in 2010 gave thanks for their rescue to the intercession of St. Barbara.
Read more:
Were the Disney princesses' dresses inspired by the Virgin Mary?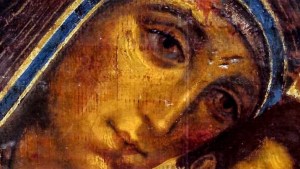 Read more:
With the awe of a girl in Disney World: Let us take delight in our real Queen