It's hard not to accept the help of an innocent child!
You can get Aleteia inspiration and news in your inbox. Our specially curated newsletter is sent each morning. The best part? It's free.
Sign up here
Is there a more intimate gesture than letting someone else feed you when you can't do it yourself? It's an act of naked surrender and trust. For a child, however, it's instinctive to take food from her mother's hand after being attached to her breast. Being dependent is not a problem for the newborn, who is aware of the world but not yet autonomous.
Old age is, for some, like a return to childhood. Often in an injured or weakened state, the mind is no longer functioning the same way. There can be incontinence, difficulty walking, and the need to be fed. My own grandmother never calmly accepted her physical breakdown, and she frowned when I offered her food that she couldn't eat alone. Being dependent was a very difficult trial for her, a woman who had driven the Germans out of her home during the war, and raised a family on her own. To help her control her anger, I reminded her of how many times she had fed me as a child; I was a difficult eater, picky, and with a small appetite, and she tried very hard to make me delicious food.
These memories came back to me intensely, and I had to hold back my tears, when I saw this viral video that tells a very tender story of a grandfather confined to bed, who allows his little grandson to give him spoonfuls of papaya. The grandfather's eyes are fixed on the child, and the child instead fixes his gaze on the fruit to be able to do a good job with the spoon.
It's not easy to accept being in need, especially when it comes to our primary needs. Our pride would like us to be fully independent. It's one thing to have to be told how to make phone calls with these new smartphones, but it's quite another not to be able to go to the bathroom without help. To yield, to appear fragile, to ask and to wait is a difficult but beautiful accomplishment.
Perhaps the right therapy for the grandfather here is precisely that of this child who "plays" at feeding him, that is, he does it in the best way. Wanting the best for the other, in this case, is turned into the memory of a gesture that the grandson has seen done to himself and which he now returns to those he loves.
An adult can take the risk, in these cases, of feeling like one who is fulfilling a duty, albeit with affection. In the child, the gesture is something more instinctive and therefore deeper, because it draws on his intimate memory of that nourishing and all-encompassing bond with his mother. It is not so absurd to think that, by spoon feeding his grandfather, the child imagines that his loved one is "growing and becoming strong," just as he did when he was younger. That childhood innocence treats senility as a kind of youthfulness that needs strength and energy for a new beginning. God only knows how true it is.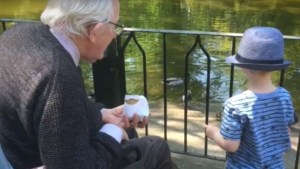 Read more:
This sweet story illustrates why kids need to spend more time with the elderly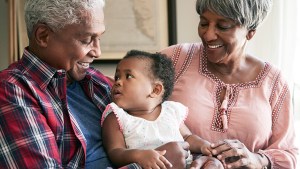 Read more:
A lightning visit to grandparents can make their day