And Francis suggests a simple first step for becoming a peacemaker in imitation of the Prince of Peace
To be a peacemaker is to imitate God, Pope Francis said in his morning homily, drawing from the First Reading, which says that swords shall be beaten into plowshares, and "one nation shall not raise the sword against another, nor shall they train for war again."
The Holy Father thus invited the faithful — and even children — to ask ourselves if we are peacemakers. If we engage in "bullying or in making peace."
Isaiah's description of how the lion will lay down with lamb signifies that Jesus brings a peace that is capable of transforming life and history, and that's why he is called the Prince of Peace; he comes to offer us peace, Francis explained.
Thus, he said, the season of Advent is a time to "bring oneself to peace."
It is a time of peacemaking, first of all, with oneself; to make peace in one's soul, the pope said, noting that so many times we are "anxious, anguished, and hopeless."
The Lord asks us today, "How is your soul? Is it at peace?" If no, the pope said, we should ask the Prince of Peace that he might put our souls at peace, to prepare us for the encounter with him.
"We are accustomed to look at other people's souls," the pope remarked, but this is an invitation to "look at your own soul."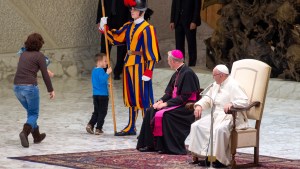 Read more:
Little boy joins pope for catechesis; Francis draws lesson from his freedom (VIDEO)
Then, Francis continued, we must make peace at home. "There are so many sorrows in families — so many arguments, so many little wars, sometimes so much lack of unity," he said: Are there bridges or walls in your family?
Finally then, the Bishop of Rome continued, the world needs to be put at peace: "There is more war than peace," he lamented. "There is so much war, so much disunity, so much hate, so much exploitation. There is no peace."
What do I do?
The Holy Father then advised that being a peacemaker starts with our own small actions:
What do I do to help bring peace to the world? "But Father, the world is too far away!" But, what do I do to help bring peace to my neighborhood, in my school, in my workplace? Do I always have some excuse to be at war, to hate, to speak badly of others? This is to make war! Am I meek? Do I seek to build bridges? Do I avoid condemning? Let's also ask children: What do you do at school? When there is a classmate who you don't like, who's a little hateful or who is weak, do you bully or do you make peace? Do you seek to make peace? Do I forgive everything?Artisans of peace. This is what is needed in this time of Advent, of preparation for the coming of the Lord who is the Prince of Peace.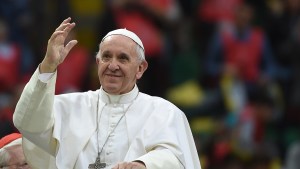 Read more:
Pope Francis to youth: Promise Jesus and promise me that you will never bully
Making peace is imitating God
Peace, said Pope Francis, is always moving forward, is always fruitful.
It begins with the soul and then it returns to the soul, after having traveled this whole path of peacemaking….And to imitate God is to make peace — when he has wanted to make peace with us and has forgiven us, has sent us his Son to make peace, to be the Prince of Peace.Someone could say, "But Father, I haven't studied how peace is made; I'm not a person of culture, I don't know, I'm a youth …"Jesus in the Gospel tells us what should be our attitude: "I praise you Father, Lord of heaven and earth, because you have hidden these things from the wise and understanding and revealed them to babes."You haven't studied; you aren't wise. Make yourself small, make yourself humble, make yourself a servant of the others. Make yourself small and the Lord will give you the ability to understand how to make peace, and the strength to do it.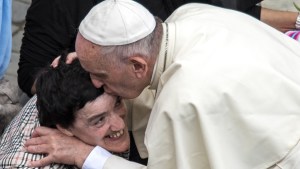 Read more:
Pope: Bullying is the work of Satan, who has no compassion
Where to begin
Francis said that being a peacemaker beings with refusing to hurt others, whether at home, at school, or at work. "Never, never hurt another. Never."
"And Father, how do I begin to never hurt another person?" Don't speak badly of them. Don't take the first shot. If all of us did just this — not to speak badly of others — peace would go farther.May the Lord prepare our hearts for the Nativity of the Prince of Peace. But may he prepare us, with us doing our part to make peace: to make peace in my heart, in my soul, to make peace in my family, in school, in the neighborhood, at work. Men and women of peace.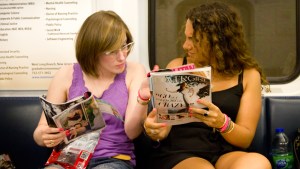 Read more:
Confessions of a (hopefully recovering) gossip junkie