If Christ is to be born in our hearts, we'd best get the throne room ready
How do you know when it's time to take out the trash? "When the stink becomes unbearable" is a reliable, if inadequate, answer.
"When the volume of trash leaves no room for any new good gift" is a less obvious but nonetheless accurate answer.
"When the volume of trash makes the good things you already have impossible to find — or even to remember." That answer is more important than you might think.
Let's connect all of the above to Advent.
The Scriptures of this season exhort us to "prepare the way of the Lord" and "make his paths straight." These exhortations can mean many different things, but I doubt they are meant to spur us on to more and more frenetic consumption of worldly (and often superfluous) goods.
Nor can they be taken as a call to anxious activity readying ourselves for "Christmas celebrations" that have little or nothing to do with Christ.
Whatever else they might mean, the Scriptures of the Advent season surely call us to forgiveness as a means of preparing the way of the Lord; that is, clearing the throne of our hearts so Christ the King may take his rightful place there.
Our first step in preparing the way of the Lord is to take out the stinking trash of our sin by asking forgiveness of God and neighbor. Unrepented sin blocks us from the fellowship with God and neighbor for which we were made.
So let's begin our Advent project of preparation with the most obvious first step: go to confession!
Let's cooperate with the mission of Christ and accept the liberation from sin that he won of us with his own Blood. It would be madness not to. And where possible, let us be reconciled with our neighbor, asking for forgiveness and making amends for our own wrongdoing.
To prepare the way of the Lord this Advent, we must clear the throne of our hearts so that Christ may exercise his reign over us from the center of our soul. That means we must eject as toxic trash any idols or usurpers we have allowed to accumulate in our hearts. In particular, we must reject the resentments and bitterness we may be harboring against those who have wronged us.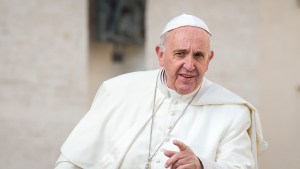 Read more:
Pope: Are you making yourself a human sacrifice to your idols?
Now, I hasten to add that we do not have to be compliant victims or open ourselves to further abuse. We should, however, at least desire to be able to exercise forgiveness for those who have wronged us. (See the brief and brilliant video by Dr. Stephen Marmer to learn the distinction between exoneration, forbearance and release when speaking of forgiveness.)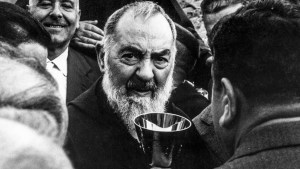 Read more:
True repentance doesn't mean tormenting yourself; Padre Pio has a better idea
I have known people who have cultivated, relished and worshiped their resentments for decades. Their beloved bitterness became terrible and jealous idols that will tolerate no love in the hearts of which they hold way. Please take out the trash of resentment and strive to exercise forgiveness — for even Christ himself can work little benefit in a heart overflowing with bitterness.
I noted at the outset that trash can make the genuine goods in the heart difficult or impossible to find or even remember. Here we must speak of the problem of forgiving ourselves, and learning how to live forgiven. (That was a subject of a previous column of mine.)
Yes, we must be candid and humble in the admission of our faults, for if we only play at being sinners, we can only play at being saved. Be sure of this: We blaspheme when we disfigure by self-loathing the image of Christ that God's grace has been forming in us.
When, by exercising self-forgiveness we take out the trash of self-hatred, we can make easier to find and be grateful for the good work that God has already begun in us.
Advent is a time of forgiveness. Let's pray for the graces of profound forgiveness — repenting of our sin, extending mercy to others and even to ourselves. If we do that, then we can be confident that we have worked wisely and well to prepare the way of the Lord.
***
My column "The Problem with 'Mary Did You Know?'" generated spirited discussion online. My editors asked me to offer a brief response.
The critical comments fell into three categories:
1) "But I really like the song!"  There's not much one can say in response to that.
2) Regarding the dogma of the Immaculate Conception: "Where is that in the Bible?" The encyclical Pope Pius IX wrote declaring the dogma ("Ineffabilis Deus"), which I referenced in my column, contains many scriptural references.
3)  Regarding Mary needing a savior: "Aha! Father is wrong! Mary DID need Christ's saving grace!" But I never denied that. I just took note that, contrary to the lyrics of the song, the baby she delivered would not "soon" deliver her –- He had *already* delivered her. My formulations in the column and my citations of the encyclical Ineffabilis Deus were intended to make that clear.
The positive comments were variations of the following: "I always suspected there was something amiss with that song—thanks for pointing it out."
My primary concern was to highlight a popular song that, at best, lends itself to theological misinterpretation, but was sung with gusto at Christmas Eve Mass. The Catholic Church has a vast array of musical resources available that are theologically sound, beautiful and liturgically suitable. Words do matter; they can obscure or illuminate the truths of the Faith. God and the People of God deserve the best that we can offer at Mass, especially during the Solemnity of Christmas.