Many of the island's most famous desserts were conceived by cloistered nuns.
Ask someone about Sicilian cuisine and they'll be sure to mention sweets like cannoli, tube-shaped pastries stuffed with ricotta-based fillings, which are now famous the world over thanks to the global community of Sicilian emigrants. But not many of us know that we owe many of Sicily's sweet dishes to the creativity of cloistered nuns.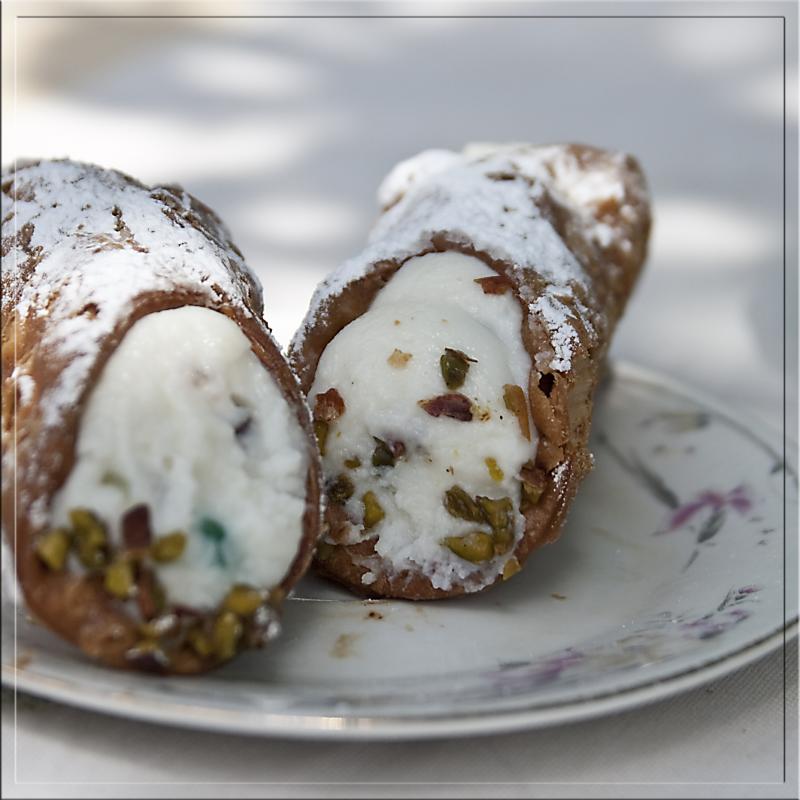 Launch the slideshow
During the Middle Ages, cloistered nuns used to bake sweet goods like biscotti in order to give them as gifts to the few people they interacted with, such as visiting bishops, doctors or accountants. Larger production was not an option as ingredients needed to make sweets were hard to come by.
But as explained by Sicily's Cultural Association of Pastry Makers, a shift in the production of sweeteners during the second half of the 15th century contributed to make baking more affordable. Up until the mid-1400s, honey had been the main sweetener in use by civilizations of the Mediterranean basin, including Sicily. But in the late 15th century, French agronomist Olivier de Serres noticed that some beets could be processed to make a sweet substance (white sugar) that could replace honey or cane sugar. Beets were a common crop across rural Sicily, and soon the island became Italy's first producer of sugars. Nuns could suddenly unleash their gastronomic creativity without breaking the bank.  
Sugar is also much more malleable than honey, so nuns found new ways to shape their creations. One of the most famous examples of such sugar-modeled sweets is frutta martorana, a pastry made of almonds and sugar that can be modeled to create realistic replicas of almost any fruit.

Many female monasteries started to turn into semi-professional bakeries. Abbesses would be in charge of sourcing the best ingredients to make pastries, while converse—unmarried women who were spending time in female monasteries to help with daily tasks —offered an important source of labor to guarantee the constant production of sweets.
A former conversa who wrote a book—titled Mandorle Amare (Bitter Almonds)—about her work as a pastry maker in the convent of San Carlo in Erice, Sicily, left us with a poignant description of the kind of hard work behind pastry making: "There were days in which you had to squash almonds and days in which you had to peel almonds. We used to squash them with a hammer and a piece of stone. A team of eight people could crush as many as 80 kilos of almonds. For every five kilos of almonds we would get a kilo of raw almonds needed to make sweets."
Soon enough, many female monasteries around the island became famous for a particular type of sweet: nuns from Martorana were renowned for their almond paste desserts, while those from Badia Nuova were famous for cannoli, teste di turco (literally "head of Turks")—puff pastries filled with cream—and cassatelle—semi-circular dough pockets filled with ricotta. During Christmas time, many Sicilians would travel to the monastery of Concenzione in Palermo to get their festive nucatili, hard biscuits filled with nuts and cinnamon. Carnival (the days before Lent begins on Ash Wednesday) was one of the busiest times of the year as nuns started the tradition of handing out specially crafted sweets to poor families on Carnival Sunday. That's why a local saying goes: "On Carnival Sunday, you better befriend the nun."
Throughout the following centuries, nun recipes became ingrained in Sicily's gastronomic culture. Almost any bakery in the island proudly serves nun-invented delicacies. But many of the monasteries that offered a home for Sicily's sweet renaissance are no longer in place.
After Italy's unification, the newly established Italian government seized lands that belonged to the Papal States, leading to the dissolution of many convents around the country. Today, only a handful of female monasteries are still in operation in Sicily, such as the convent of the Holy Spirit in Agrigento, the Benedectine monastery of Palma di Montechiaro, and two cloistered monasteries in Mazzara del Vallo and in Alcamo.
In some of them, nuns still bake and sell pastries in order to support their communities. For example, nuns from the Monastery of the Holy Spirit, founded in 1299 in Agrigento by the Chiaramonte family, still place sweets-filled wheels under the window grates at the entrance of the monastery. Visitors can pick them up in exchange for an offering. Specialties include sweet couscous, which looks like normal couscous but is made with pistachios, almonds and bits of chocolate instead of chicken or vegetables, and conchiglia, a sea-shell shaped pastry filled with candied pumpkin, almonds, pistachios, and decorated with a colorful glaze.
Finally, for those interested in literary gastronomy, we recommend a visit to the Benedictine convent of Palma di Montechiaro, founded by the famous Lampedusa family featured in Giuseppe Tomasi di Lampedusa's novel The Leopard. In this 400-year-old building, Sister Mary Nazzarena still bakes traditional sweets mentioned in The Leopard, such as cassatella, a pastry glazed with white icing and filled with almond paste and pumpkin, and the biscotti ricci del Gattopardo, literally "the Leopard's curly biscuits," made of almond paste and cinnamon.