These artisans are using their talents to bring faith into the home and into the world.
When Scripture tells us to "put on a heart of compassion, kindness, humility, gentleness, and patience" (Col 3:12), we don't think of taking it literally. However, the way we dress ourselves and our homes and the toys we provide our children have an impact on our hearts and minds. The way we present ourselves should draw on the dignity we have as God's children. When it does, we encourage others to acknowledge that dignity in themselves.
Take a peek behind the scenes at the growing number of Catholic artists who are using their gifts to bring faith into the home and out into the world. (They all generously offered promo codes to our readers, so read on!)
In 2014, Erica Tighe was trying to discern what God was calling her to do with her life. She wondered if the calligraphy she'd been doing on the side could turn into a full-time job. When she worried that she didn't know how to tune into God's will, her spiritual director assured her that God's will is to love. Could she love in her artwork? Yes, she thought she could.
Today she says owning her own business is a daily opportunity to grow in generosity and faithfulness. As she strives to be generous with her time and talent — while learning how to say no when it is appropriate to give time to her family — she is also constantly learning how generous the Lord is to her. God has always been faithful in providing the work she needs. She's learned to ask God for what she needs and to be open to where He is calling her. Trusting in Him has brought great joy, which is clearly seen in the beautiful prints, cards, bandannas, journals, blankets, books, and even swimsuits she creates.
Use code ALETEIA for 20% off through Christmas.
Elizabeth Bloomfield creates jewelry, cookie cutters, chrism-scented beeswax candles, and rosary cases. She has always been creative, and it was her husband's encouragement that led her to offer more widely the products she created to encourage prayer and faithful living in their family.
Her business has provided a creative outlet after transitioning from working full-time as a teacher to being a SAHM. Like Erica, Liz says her business has been an impetus for personal growth. "Sometimes it really is difficult to know or believe in your own talents," she says. She credits her family and friends with helping her to recognize hers. "If there's a gift you've been given, there's no better way to use it than for God's glory."
Use code Aleteia10 for a 10% discount until December 31.
Shannon Wendt's business started, stopped, and then started again before exploding into the success it is today. Three miscarriages contributed to undiagnosed postpartum depression and a dark time in her relationship with God. A series of otherwise inexplicable events brought her to hear the call to pray a daily Rosary — except that 20 minutes to pray seemed impossible.
She brought her litany of objections into a church and laid them on the altar. Within a week, the Holy Spirit inspired the design of her rosary bracelet  — which includes a movable charm to keep your place when you're interrupted — that answered each of her excuses. Her business underwent a transformation, and today offers rosaries for adults and children alike.
To the artist discerning how put their talents to use for the kingdom, Shannon says, "Just begin. Just bring whatever offering you have into the Light and let God multiply it."
Use code 10DEC2018 for 10% off until December 10th.
(The link for this shop is an affiliate link; your purchases through this link benefit the author at no cost to you.)
Three years ago, Shannon Wendt approached Rakhi McCormick to be part of what is now Zelie & Co., a coop of Catholic artisans, who work together to promote their individual shops. With encouragement from the group and from her husband, Rakhi gained the confidence to grow her business, Rakstar Designs, which produces hand-lettered cards and more.
For Rakhi, creating is a method of prayer that often happens in moments of struggle. A new creation can bring new energy to her faith. "It is always a process of testing and waiting on the response of the Holy Spirit," she says.
To encourage others, she says, "Find what gives you energy… If you can't put your finger on it, ask someone close to you what they think brings you life — or how you bring them life."
Use code GIFTGUIDE10 for 10% off orders of $30+ through December 31.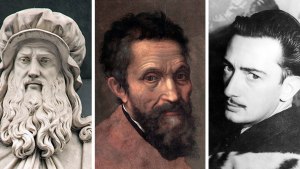 Read more:
How faith inspired these 8 legendary Catholic artists' most famous works