Her performance went viral in 2016.

When Kaylee Rogers arrived at Killard House Special School in Northern Ireland, she barely spoke at all until her music teacher brought her out of her shell with singing. Diagnosed with autism spectrum disorder (ASD) and ADHD, Kaylee faced challenges in simple everyday tasks, but her mother says she has seen her daughter flourish through the power of music.

In 2016, a video of Kaylee singing with her school went viral, and she has been singing around the world ever since. In the video above, she joins Steve Harvey on Little Big Shots to share what music means to her. Watch the interview in the video above, and see her performance of Leonard Cohen's "Hallelujah" 

.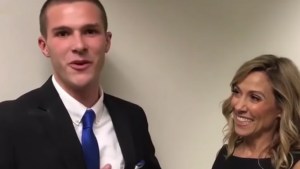 Read more:
This boy with autism learned to sing before he ever spoke (VIDEO)