Here are 5 tips to help you or a loved one cope.
What can God do in your life with one Bible verse a day?
Subscribe to Aleteia's new service and bring Scripture into your morning:
Just one verse each day.
Click to bring God's word to your inbox
"It's too much," I sobbed, barely able to breathe. My mom walked over and carefully removed my toddler, Jordan, from my arms so that my husband, Carey, could wrap me up in his.
It was Christmas Day, 1999, and my family of three — Carey, Jordan, and I — were visiting my parents. I'd recently been released from counseling after months spent fighting demons that led to a severe bout of postpartum depression. Just weeks earlier, in the middle of November, my beloved grandmother "Nanaw" had died suddenly of a heart attack. And now, as I sat on the floor with Jordan in my lap, hot tears coursed down my face. Carey had just gotten a phone call informing us that a close friend's daughter had died in a car wreck.
I had already been struggling through the usual Christmas preparations, numb with grief and shock. And with the arrival of that sad phone call my grief felt even deeper.
"I can't handle it," I said, as Carey soothed me. I felt completely spent — emotionally, spiritually, and physically. I moved through those next few days in a complete fog.
That was almost two decades ago, but there are times when I still get tinges of that same sadness, especially as the holidays approach. Grief has no respect of time or persons, and often the Christmas season, with all its cheer and the giant to-do lists that come with it, magnifies that melancholy.
So even though it may sound counter-intuitive, sometimes this time of merriment sparks exactly the opposite feeling. And being sad can make you feel guilty about not being "in the Christmas spirit," which only makes things worse. Cheery tunes blaring from store speakers and car radios seem to mock us; the babe in the manger feels incredibly far away; and God's peace and love seem to be for other people, not us.
Lisa Velin, a licensed professional counselor, says: "For many people, the holiday season is a time when they feel like an 'outsider.' Everyone else seems to be surrounded by love and warmth while you feel alone, cold, and in the dark. As you walk through department stores to do a little Christmas shopping, attend work parties, and even as you sit in church surrounded by people singing Christmas carols, you cannot shake off the feeling of a dark, deep depression. This seems to build up inside of you with increasing intensity, even as you outwardly observe the joyfulness of the season."
If you or a loved one you know is going through a tough time or suffering from depression, here are some coping strategies for the Christmas season and beyond:
1. Get help
If you feel yourself drowning, reach out for a life preserver. Call a counselor, doctor, priest or spiritual adviser … and be honest about how horrible you feel. Tell them you are thinking of harming yourself or that you can't get out of bed. Accept the help they offer, with gratitude. It takes courage to be vulnerable, but the rewards — less isolation, medical intervention, lifesaving therapy — are worth it. If the first person you talk to doesn't take you seriously, ask someone else for help. Friend, YOU are worth it.
Keeping your emotions — especially bad ones — inside can lead to a vicious cycle of isolation. A study led by Sanjay Srivastava of the University of Oregon found that college students who suppressed their emotions experienced "less social support, less satisfaction with their social lives, and they experience trouble getting close to others."
2. Give help
Making gifts for others lifts her mood, says Angie Logozzo. "I love to bake and share the things I bake with others." Consider volunteering, even for a few hours. Studies have shown that giving of ourselves is not only good for others, but it also contributes to our own happiness and well-being.
Management consultant Sharon Durling agrees: "I enjoy going into a nursing home and visiting people, or getting a few people to go along with me to carol. That's the BEST. It's about reaching out to somebody who may be a bit more down and out than you are. They're everywhere and not hard to find!"
3. Surround yourself with the Word
During my worst months, I turned on a Christian radio station, and I also copied scripture verses with the word "hope" or "peace" on index cards and placed them around my house. I stuck one on my fridge door, hung one above the baby's changing table, and even put one on the dashboard of my car. Reading Bible passages in small doses helped me to focus on the plans God had for me and what He'd already given me. It also helped me to replace lies I had falsely believed (such as "I'm not a good mom" and "God can't love someone like me") with eternal truths.
Counselor Michelle Nietert says, "It helps me to pour out my heart to God in prayer and in a journal." And speaker Sandy McKeown adds, "Having a heart-to-heart with our Lord, starting with thanking Him for the things I'm grateful for, is part of my plan when I'm depressed."
4. Don't expect others to completely understand
When I was going through postpartum depression, my husband was sweet but confused. He thought I should be able to "snap out of it" because he and his family had never experienced the disease. Now, many years later, he looks back and realizes he could have been more understanding. I don't fault him, but it would have been nice to have a partner who empathized instead of cajoled. That's why I highly recommend support groups and counselors. Having people who "get" you while you're at your worst is a huge relief. For a few hours a week, you can completely let your guard down and share your deepest thoughts and feelings. Such freedom is healing.
5. Give yourself grace
Getting through the valley of depression takes effort and time. It may also be one of the hardest journeys you'll ever take. Whenever you can, do fun things for yourself: take a bubble bath while looking through a magazine; treat your toes to a pedicure; watch a silly movie (and get butter on your popcorn). Author and radio host Rebecca Carrell says, "When my thoughts feel out of control, I do the physical things that make a difference, like exercise, eat healthy, and get enough sleep."
Speaking of sleep, a lack of rest due to busy schedules can amplify depression. Linda Morgan says, "When it's overwhelming, I give myself permission to cry until I'm all cried out … Then I determine to flip my brain's switch to 'off,' and go to bed, so that my mood can reboot."
Self-care is something we shouldn't ignore, especially when depression strikes. So book a massage, read a novel, or take a long walk in nature. As you discover the specific actions that help you the most, make them a regular priority during the holidays.
Finally, know that whatever your emotions tell you, you are never, ever alone. The good news of Christmas is that the very God who formed the cosmos descended into humanity. Jesus gave up a heavenly throne to reconcile his errant children to Himself through a scandalous act of grace and mercy. This same Heavenly Father is only a prayer away. He longs to dwell with you and in you.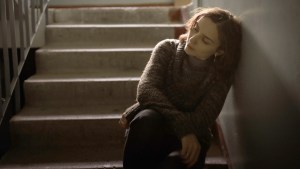 Read more:
Depression: Dispelling the myths and cutting through the confusion