The 2018 Hubble Space Telescope Advent Calendar is under way and better than ever.
What can God do in your life with one Bible verse a day?
Subscribe to Aleteia's new service and bring Scripture into your morning:
Just one verse each day.
Click to bring God's word to your inbox
Every year since 2008, Alan Taylor, the senior photo editor at The Atlantic, has been marking the countdown to Advent with spectacular images from the Hubble Space Telescope on his Twitter, Facebook, and Tumblr pages. As he says every year in introducing the new images: "I hope you enjoy these amazing and awe-inspiring images and the efforts of the science teams who have brought them to Earth … Wishing you all a merry Christmas, happy holidays, and peace on Earth."
The calendar, which you can bookmark and show to your kids every day, is a nice alternative to the more commercial versions of the Advent calendar available today, many of which involve opening a little paper door revealing a Bible verse or chocolate treat inside.
If you think about it, the vastness of the universe makes a lot more sense than chocolate treats when it comes to Advent, a time for reflection and preparation for the arrival of the  miraculous and the wondrous in our world, and in our hearts.
Pondering the vastness of the universe in these photos, like the rainbow-colored interstellar gas in the Lagoon Nebula 4,000 light years away, as well as images of other galaxies clashing and existing millions of light years away from us, is both mind-expanding and faith-nurturing. And after all, it was a star in the sky that first announced the birth of our Savior on our planet …
Enjoy a sampling from Taylor's 2018 picks so far, and bookmark his pages up until December 25. (It's totally worth the time to check out his past calendars as well.)
2018 Hubble Space Telescope Advent Calendar – Day 10: The Heart of the Crab Nebula. At the center of the Crab Nebula, 6,500 light-years away, lies a "beating heart" that blasts out blistering pulses of radiation 30 times a second with clock-like precision https://t.co/unmYEV0TlSpic.twitter.com/e7m3NngYxZ

— The Atlantic Photo (@TheAtlPhoto) December 10, 2018
2018 Hubble Space Telescope Advent Calendar – Day 6: A Protostellar Jet. A young star, IRAS 14568-6304, is cloaked in a haze of gas and dust, a protostellar jet, which appears as a "tail" below, made of leftover gas and dust taken from its parent cloud https://t.co/unmYEV0TlSpic.twitter.com/F0oo2iJLuh

— The Atlantic Photo (@TheAtlPhoto) December 6, 2018
2018 Hubble Space Telescope Advent Calendar – Day 2: A Distant Whirlpool. A face-on view of spiral galaxy NGC 3344, located about 20 million light-years from Earth. https://t.co/AYeHjyDy3Vpic.twitter.com/EW3xAsYH8a

— The Atlantic Photo (@TheAtlPhoto) December 2, 2018
2018 Hubble Space Telescope Advent Calendar – Day 1: A Colossal and Colorful Lagoon. To celebrate its 28th anniversary, Hubble made this spectacular image of glowing clouds of interstellar gas in the Lagoon Nebula in February of 2018. https://t.co/AYeHjyDy3Vpic.twitter.com/TADTVeSV6X

— The Atlantic Photo (@TheAtlPhoto) December 1, 2018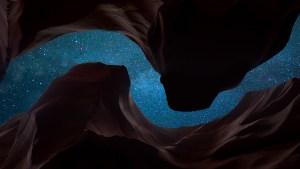 Read more:
"God is an artist, and the universe is His work of art."