These ideas for devotions are easy, entertaining, and an investment for the coming years.
Advent sometimes sneaks up on the best of us and we find ourselves unprepared to make the season something special for our kids (and ourselves).
Here are a few simple ideas that will work even for a late-start Advent, or that are worth buying so you have them ready for next year. (Tip: put a note in your online calendar for the end of next November, so you don't forget.)
Possibly the most entertaining way to do Advent devotion
These books by Arnold Ytreeide are designed for reading just a few pages and a reflection each day. He has the skill of a soap opera director when it comes to stopping just at the moment that you're dying to find out what happens next. My little ones have been describing the waiting with, "Mom!! This is torture!!" (That's, of course, part of the point and your kids will understand the concept of Advent longing because of their desire to keep reading past the day's allotted reflection.)
Ytreeide has four books for Advent and one for Easter. Because the readings are short, you could read all the pages up to today's date and then fall into the designed schedule. It's worth starting late with this tradition, and I've purchased the other books for the coming years.
Jesse Tree-in-a-book
I love the idea of the Jesse Tree but this tradition can take quite a bit of mom-effort. Until now. This beautiful book from Ann Voskamp simply could not be easier. In one "book" you have the tree, the ornaments, and the readings. (The tree "pops up" like in a fancy greeting card, and the readings are collected in a tiny book hidden behind its own door in the calendar. Adorable!)
The same mini-book is available with the Scripture readings included in a large-size, equally gorgeous volume. And if you're still wanting to entertain your kids with coloring Jesse Tree ornaments, she has those available online for free.
When the season is over, you just shut the book and store it all tidy and together in the bottom of a box for next year. This came in the mail 10 days into the season, but I decided to add it to our Advent ritual simply because it is so darn easy (and beautiful too)!
The most basic of the basics
Finally, if you're not doing anything externally for Advent yet, get some pillar candles on two-day shipping. Skip the wreath if you need to; just having these four candles sitting around will remind you and your family that we're readying for Jesus' birth. And if you invest in pillars this year, you'll have them for several years to come.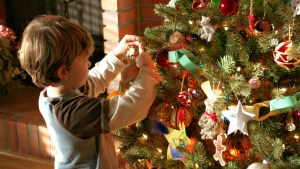 Read more:
How to salvage your disappointing Advent (yes, even now)