Francis warns that in some cases and places the role of apparitions is exaggerated
"There are some exaggerations regarding Marian apparitions," says Pope Francis in an interview with the Italian TV channel TV2000, broadcast on December 11,. That's why, according to the pontiff, the Church remains "always very careful" about them.
Faith "finds its roots" in the Gospels, in Revelation and in Tradition, explains the head of the Catholic Church, but never in apparitions. One must beware of the Marian shrines that transform the Blessed Virgin into a "heroine" without reference to her Son, he warns.
See more below about how Catholics are not "required" to believe in any private revelation, even those deemed worthy of belief by the Church.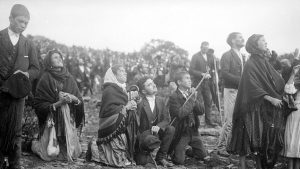 Read more:
These apparitions were officially approved by the Holy See as "worthy of belief"
Staying in contemplation only of Mary who "points us toward" Christ and not contemplating Christ Himself, according to the pope, is a sign that "something about this apparition isn't right."
An example of the kind of caution to which the Bishop of Rome referred can be seen in the case of the shrine of Medjugorje, in Bosnia and Herzegovina. Although appearances have been reported since June 1981, the Vatican has never officially pronounced on the authenticity of the events. For the moment, only private pilgrimages are allowed.
Read more:
Pope Francis: "There's grace in Medjugorje. There's no denying it; people are having conversions."
Also in this TV2000 interview, the pope evokes the importance of the Blessed Virgin among Muslims. Some of them, he noted, have true devotion to the mother of Christ.
He gives the example of an African country where, during the Jubilee of Mercy, a crowd of Muslims gathered at an altar dedicated to the Mother of Christ to visit the Madonna, saying that she was close to Muslims.
Read more:
5 Things to know about Mary and Muslims