Let's ask God for the Godly men we need.
What's more compelling than asking a kid what he wants for Christmas? Asking an adult, "What do you want for Advent?"
As a boy, I could answer the Christmas question with my copy of the Sears Catalog. Asking an adult, "What do you want for Advent?" might get incomprehension in reply.
Some, upon reflection, might answer, "What I want for Advent is to get all my shopping done, mail all my Christmas cards on time, get the house cleaned, and not eat half the cookies baked in my house." That's closer to the mark for most folks. But what if Advent isn't merely the ramping up for the orgy of consumption that Christmas has become for so much of the world? What if Advent were a season in its own right, with its own rhythms, rituals and wisdom? What if Advent were more than the extension of
?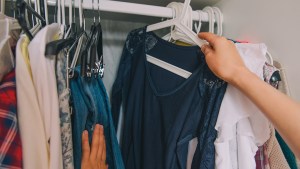 Read more:
On cyber Monday, pope warns: Consumerism is an enemy of generosity
To answer those questions, let's take some guidance from Dietrich Bonhoeffer, the pastor who heroically resisted the Nazis. Regarding Advent, Bonhoeffer wrote these words:
A prison cell, in which one waits, hopes—and is completely dependent on the fact that the door of freedom has to be opened from the outside—is not a bad picture of Advent.
Waiting for the door of freedom to be opened, waiting to be liberated from our captivity, from our limitations—those are very fine images of Advent. We are like Lazarus in the tomb, waiting to be called forth. But once the prison door is opened, once we have been called from death to life, when we find ourselves at the threshold, half in the dark and half in the light, what shall we do with our freedom? What shall we do with our undeserved second chance? How shall we who have been unexpectedly born again live our vocation as liberated and free?
In our present dark times of scandal and dissolution, I want to address men in particular today, and, by implication all who need the men in this world to be good and Godly men. (I have written in this forum several times to and about women.)
My brothers, what I want for Advent is to be freed to unite with a strong company of Godly men, men who know that they are called to be husbands, fathers, priests, and heroes. I want to walk out of the tomb into the light, with other Godly men, who are ready and eager to use their God-given manly freedom and strength to stand up for the honor of faith, family, and community. Our nation, our Church, our culture, our communities suffer from the lack of such men.
Read more:
7 Types of men you need in your life
What we see around us is a generation of not men but merely "boys-who-shave," that is, males unwilling to shoulder the cross of being a true man who sacrifices, leads, and provides. We suffer from a lack of men willing to take responsibility for the children they beget, or for the women who love them, or for the civil liberties they enjoy. Today we're surrounded by countless Peter Pans refusing to become men. They're not the whole problem, but these Peter Pans living in their parents' basement, smoking dope, using pornography, and demanding a free ride are surely not now ready to be part of the solution. And we've been reminded repeatedly that these shallow, selfish Peter Pans have a very dark side that can explode in murderous rage.
So, as Advent draws to a close, we may ask, "What is the solution?"
First, we must turn to the Lord and clamor for our liberation, asking for the cells and tombs of our lives to be opened. Second, we must obey the call to emerge from the darkness and live as free men, made in God's image and likeness—redeemed at a terrible cost and consecrated for a greater glory. Finally, we must all prepare our boys to be Godly men.
We can begin by honoring the heroic fathers of our past and present; by proclaiming Jesus Who is true God and true man; by insisting that God is above all a loving Father.
Is all that wishful thinking? Scripture tells us otherwise. Recall the prophet Zephaniah: "Fear not … be not discouraged! The Lord, your God, is in your midst, a mighty savior …" God doesn't demand the impossible, but offers us all we need to live and die as we ought. When we see the blessings that flow from Godly men who have become true husbands, fathers, priests, and heroes, then we can echo the words of the Psalmist: "… the plan of the Lord stands forever; the design of his heart, through all generations."
When I write next, I will offer one more mediation on Advent. Until then, let's keep each other in prayer.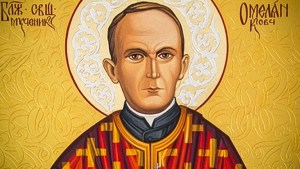 Read more:
Husband, father, and priest, Blessed Emilian saved Jews, scorned Nazis, died a martyr