Confessions of a Scrooge: This is why I always hated Gaudete (Rejoice) Sunday, and why I don't anymore.
For years, I hated "Gaudete Sunday."
The Third Sunday of Advent (Year C) is when the entrance antiphon says "Rejoice in the Lord always, and again I say rejoice!," the pink candle is lit, and homilists and Catholic media eagerly tell us that "Gaudete" means "rejoice" because Advent is more than half over.
Fine. I get that. But I guess it always seemed phony to me.
I'm not against rejoicing — but I am against pretending.
My Advent was mostly pretend and so it seemed like Gaudete Sunday was mostly pretend, too. After all, Advent for me has too many Christmas parties to be a "fast" in any meaningful way; there are too many gifts to buy for me to do extra almsgiving in December; and time to pray is in shorter supply than ever.
Because of that, the typical Gaudete advice sounded like hollow platitudes.
"Trust in the Lord, and you will have peace," sounds like a polite way of saying, "No peace for you. You're not good enough."
"Follow the will of God, and you will be happy," sounds like "If you're Mother Teresa, rejoice! But you're not, do your best to have fun until the bills come due."
Read more:
Why is my priest wearing pink?
But then I discovered how a change in perspective can transform everything.
I first realized what I was getting wrong when my wife asked me to get the Christmas decorations from the attic one Christmas.
A few weeks earlier, she had asked for the winter bins from the attic. That time, I had to nag kids to help get the boxes down.
This time, I was immediately surrounded by volunteers who bounded up the stairs singing. The task wasn't different — carrying bins from the attic — but the spirit was totally different. The reason for the task changed everything — Christmas changed it from drudgery to energy, from menial to magical.
A little bit of faith can change those old Advent platitudes in the same way.
When St. Paul says "Rejoice always" in the second reading, he means it. He says "Have no anxiety at all" and "the peace of God that surpasses all understanding will guard your hearts and minds in Christ Jesus."
How do we get that? He says by "kindness to all," plenty of prayer, and by including God "in everything."
But if that sounds tedious and difficult, then you are thinking of it as a "get the sweaters down from the attic" chore instead of a "get the sparkly lights" chore.
The whole reading turns on its shortest sentence: "The Lord is near."
If you know that Jesus is right beside you as you do those tasks, that faith changes everything.
If you suspect he's not, that changes everything too.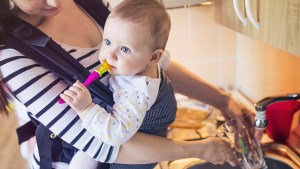 Read more:
Should you sacrifice a clean house to be with your kids?
And today's Gospel should be refreshing, too. It turns out you don't have to be Mother Teresa to get Christ's promised peace.
In the Gospel, John the Baptist — the original radical and extreme Christian — tells a number of people what they must do to follow God's will.
Tax collectors don't need to sell everything for the poor — they just have to collect the right amount of taxes.
Soldiers don't have to renounce their profession — they just have to wield their power fairly and stop grumbling about their pay.
And everyone needs to share what they have with those in need.
What would John tell us? He wouldn't ask us to be Mother Teresa — he would ask us to be a good mom, dad, son, daughter, worker, student, parishioner and neighbor.
That's it.
But what if it still feels like drudgery? What if you don't have that "transformative faith"?
Father Michael Gaitley, in his books Consoling the Heart of Jesus and 33 Days to Merciful Love, recalls the moment he discovered that faith and trust in Jesus was the most important task of his spiritual life. He asked his spiritual director how to live that trust.
Writes Gaitley: "His answer changed my life: 'The way you live trust is by praise and thanksgiving, to praise and thank God in all things.'"
Father Michael remembered how St. Faustina said the same thing, quoting Psalm 49: "Offer to God the sacrifices of praise and thanksgiving."
Today's first two readings give the same advice. "Shout for joy, o daughter Zion!" says the first reading. The Psalm, from Isaiah, repeats the same advice over and over again:
"Give thanks to the Lord. Acclaim his name" "Sing praise for his glorious achievement." "Shout with exultation," and, "Cry out with joy and gladness, for among you is the great and Holy One of Israel."
It is that easy. The way to get faith is to express it.
You don't have to pretend; you just have to remind yourself of what is true: The Lord is near. He is by your side. As the first reading says, "he rejoices over you."
Once you know that, everything you do on earth is just a version of pulling red and green boxes down from the attic so that you can celebrate his love.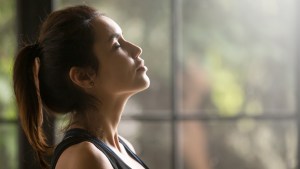 Read more:
How to use mindfulness to fight temptation