We can all appreciate a color that evokes joy, nature, and nourishment!
As we approach the New Year, Pantone has set the tone with its 2019 Color of the Year: Living Coral. This pinkish orange with gold tones is sure to bring extra brightness to your outlook. Here are some of the reasons this color was chosen for 2019:
It's a reminder of the "warmth, nourishment and shelter coral reefs bring to sea life."
Pantone says the color symbolizes "an innate need for optimism and joyful pursuits" and "authentic and immersive experiences that enable connection and intimacy."
It reminds us to care for the environment.
A rather big change from 2018's Ultra Violet, this year's color will hopefully ring in an optimistic and joyful year ahead!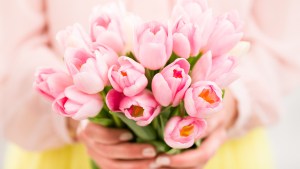 Read more:
What is "Millennial Pink" and why is it still so trendy?