December is a great month to assemble the family, grab the popcorn, and watch good triumph over evil.
Superheroes don't just save the world every time they don their collective cape. They dominate the box office, too. Four of the year's top five films are superhero flicks (Black Panther, Avengers: Infinity War, Incredibles 2 and Deadpool 2). But those blockbusters might never have gotten off the ground had it not been for the movie that flew into theaters 40 years ago.
Superman, starring Christopher Reeve as the cinematic Man of Steel, opened December 15, 1978. Made for $55 million — a princely sum back in the day — Superman earned nearly six times that during its theatrical run, and it proved to the world that serious superhero flicks could make super sums. Without Supes to lead the way, Tim Burton's 1989 version of Batman might never have happened, which led to 2002's Spider-Man, which led to 2008's Iron Man, which led to … well, you know.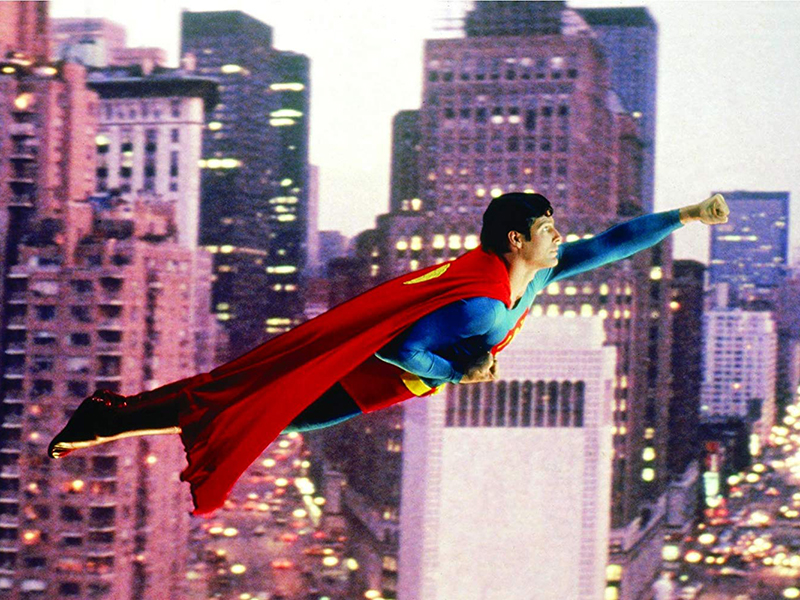 It wasn't just the high-flying special effects or big-name cast that led to Superman's success. It was the hero himself. Morally questionable, physics-bending ending aside, Reeve's Superman was the alien Boy Scout comics fans had loved for decades, and the character was already leaning into the Christ-metaphors that later cinematic incarnations would make more explicit. Since then, movie-based superheroes have often been more than good folks with impressive powers; they've been crucibles to explore our values and temptations, our hopes and fears. And sometimes they can point to even greater truths.
The 1978 version of Superman is available to rent and stream on Amazon for $2.99. But you can watch many of Supes' cinematic descendants for free (through a variety of services) this month. Here's a look at some of them — and some themes to be on the lookout for if you watch.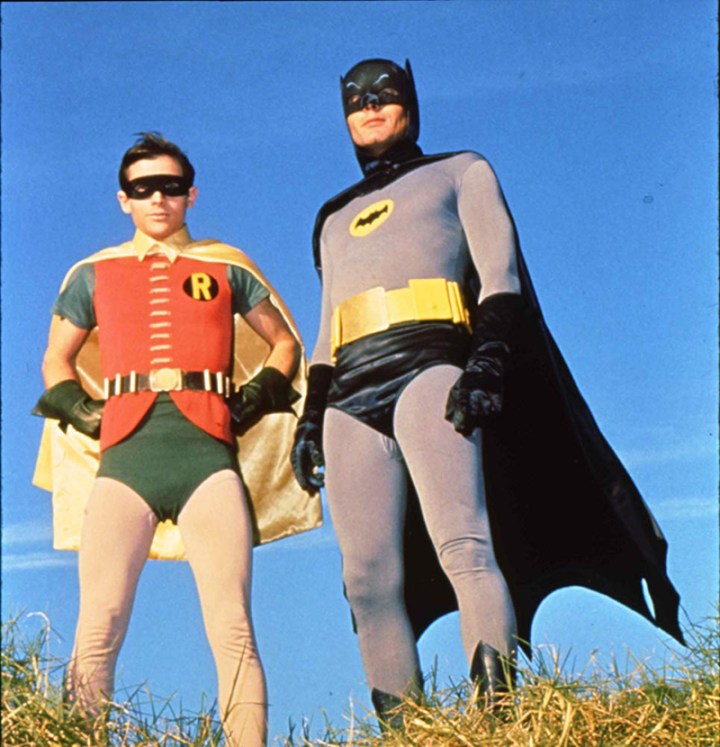 Launch the slideshow
Batman: The Movie (1966, PG)
Okay, so Superman wasn't the first caped hero to show up in a feature-length movie. Adam West's Batman, made famous as a campy 1960s comedy, beat Supes to the punch by a dozen years. Though this film hardly has the cinematic gravitas of Superman and was made with bat-tongue firmly planted in bat-cheek, West's Batman is —  by the letter of the script — as principled as superheroes get. And he's always looking to offer a timely lesson.
"Holy jumble!" Robin exclaims as the complex plot unpacks. "Where's the hope of the world now?" In Batman, chum. Good old Batman. You can stream the campy classic through HBO Now.
Black Panther (2018, PG-13)
Superheroes have gotten morally murkier since Reeve's version of Superman defined the genre. But T'Challa, a.k.a. Black Panther, feels like a throwback to an earlier, purer superhero. Wakanda's national guardian (played by Chadwick Boseman) wants to be a worthy leader, even as he wrestles with a new, terrible danger to his kingdom. It's not an easy challenge. As his own father tells him, "You are a good man with a good heart, and it is hard for a good man to be king."
I've written about this potential Oscar darling at greater length elsewhere (including here at Aleteia), but for now, let's just say you'd be hard pressed to find a more heroic and honorable hero on screen today. You can stream this movie for free on Netflix.
Guardians of the Galaxy Vol. 2 (2017, PG-13)
Peter Quill (Chris Pratt) never knew his "real" pops — until he meets him here. Turns out, Peter's the offspring of Ego (Kurt Russell), a godlike being ("lowercase g," Ego points out) who wants to spread his version of perfect peace to the universe. Turns out, he needs his son to help. What could be better, right?
But while blood may be thicker than water (especially if it's the blood of a sentient planet-thingy), love is even thicker than blood. And as much as Peter initially wants to bond with his pops, he realizes that his real family has been with him all along. This funny and surprisingly touching film offers some great messages about sacrifice, heroism and, unexpectedly, adoption. And you can watch it for free right now as long as you have a Netflix account.
Wonder Woman (2017, PG-13)
Despite the presence of genre-defining superheroes like Superman and Batman, D.C.'s cinematic universe has recently taken a backseat to Marvel in terms of critical acclaim and commercial success — with this one massive exception. Wonder Woman just might've been last year's best superhero movie, and in its titular hero (played by Gal Gadot) gave us a truly inspiring do-gooder.
"I wanted to tell a story about a hero who believes in love, who is filled with love, who believes in the change and betterment of mankind," Wonder Woman Director Sally Jenkins told The New York Times. She succeeded and, in so doing, showed D.C. how to make a great superhero flick. You can read more of what I had to say about the film here, or you can just stream it yourself, courtesy HBO Now.
You'll have to wait a little longer for these next two entries, but they're arguably worth it.
Avengers: Infinity War (2018, PG-13)
On Netflix, you can open this film as a Christmas present December 25. The movie pits practically every superhero in the known universe (the Marvel Cinematic Universe to this point, that is) against Thanos, a tough-love sort of chap who wants to kill off half the life in the cosmos for its own good. And he plans to do it with the help of the Infinity Stones, super-powerful quasi-gems that each seem to have dominion over an aspect of physics.
With so many superheroes in the mix, viewers will most certainly see tons of heroism, courage, and sacrifice on display, with everyone doing their level best to stop Thanos in his extraterrestrial tracks. And while the film ends on a somewhat dispiriting note (sensitive viewers beware!), consider this part one of a two-part film: The second half, Avengers: Endgame, comes out next April.
Iron Man 2 (2010, PG-13)
If Infinity War is just a little too stressful for you, Amazon Prime will stream this film, also beginning December 25.
Iron Man, a.k.a. Tony Stark (played by Robert Downey Jr.) has always been, in some ways, the anti-Superman. Before strapping on his armored suit, the guy was simply a heavy-drinking, self-absorbed playboy. Even after he takes up do-gooding, he's hardly a role model, and in Iron Man 2 he seems determined to self-destruct. But even in the midst of all those imperfections, we see a better man trying to get out, a guy who (bank account aside) might not be all that different from us. He, like we, must fight our own temptations and imperfections if we aim to climb closer to the person God would have us be. And as such, Tony Stark is inspirational in his very own way.
When Christopher Reeve first strapped on Superman's cape for audiences in 1978, no one could've predicted what was to come. But while some might complain of superhero oversaturation, these high-flying champions can still offer some down-to-earth lessons — and potentially make for a fun couple of hours with the family.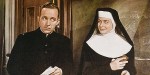 Read more:
10 Superhero priests in the movies who took their calling to another level