"Two years of Rosaries and two conference championship is no coincidence," said Benedictine College President Steve Minnis.
Benedictine College President Steve Minnis calls this year's Raven Football team "Mary's team" — with good reason.
The president leads a weekly Rosary on Wednesdays at 7:30 a.m. on the college's campus in Atchison, Kansas — and several key players of the team have never missed in two years.
"Two years of Rosaries and two conference championship is no coincidence," President Minnis said.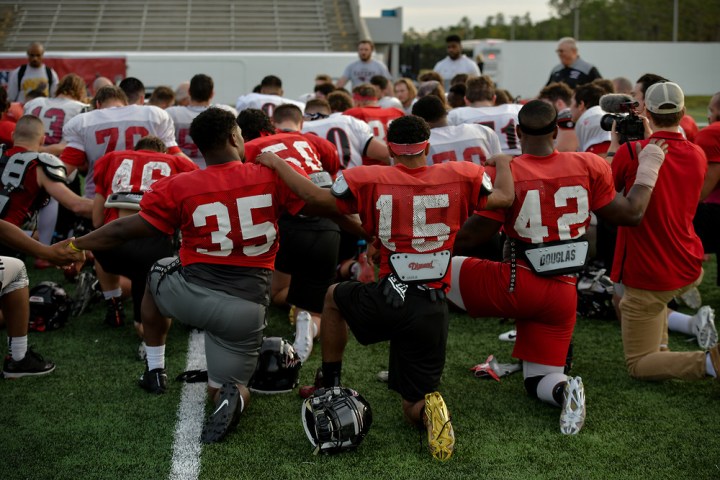 Launch the slideshow
This year, the college has not only won the HAAC (Heart of America Athletic Conference) championship, it has an opportunity to win the national NAIA championship on Sat., December 15, too.
While it's probably true that, as Tim Tebow once put it, "God doesn't care who wins football games" — the team has built a solid community spirit with the help of shared prayer.
Among the team players who pray the Rosary together is starting quarterback Schaefer Schuetz. Though he is not Catholic, he is devoted to the Rosary and to Eucharistic adoration, and never plays a game without first spending time with Jesus in the Blessed Sacrament.
He also gives glory to God by playing with excellence: Shuetz is the HAAC Conference player of the year.
Starting linebacker Luke Wozny is another regular at the Rosary. On December 12, the Feast of Our Lady of Guadalupe, he was awarded the NAIA's Champions of Character award for leadership off the field. With Benedictine College, he will lead his second mission trip to Haiti this spring. With his mother, he helps run Taking Shape, a non-profit servant leadership organization in Kansas City, Missouri.
President Minnis said the group's commitment is inspiring. "I don't do the weekly president's Rosary on days we don't have school. But they called Thanksgiving week and said, 'We are still going to do the Rosary, right?'"
In fact, campus was closed for the break and no Rosary was planned. Nonetheless, said Minnis, "I told them 'Absolutely!' We prayed the 7:30 Rosary, then I took them out for breakfast."
The team has experienced Marian "coincidences" throughout the post-season — and all year.
To advance in the playoffs, the team had to beat Concordia University from Ann Arbor, Michigan. The game went to double overtime and Raven Football fan John Wood was in the stands, as he is for most games.
"Ever since President Minnis started the Memorare Army I wanted to become a foot soldier," John told me. "I am so forgetful I have to set an alarm for the hour of mercy to pray a Memorare every day."
When a crucial play in double-overtime began at 3 p.m., his alarm went off and he began praying.
"At that moment, Benedictine fans in the stands and all over the country were praying a Memorare," John said. The Concordia quarterback fumbled, Benedictine College recovered, and the school advanced.
But the team still had to win a semifinal in Salina, Kansas. They played at Kansas Wesleyan, which shares a football facility with Sacred Heart High School. President Minnis said he knew it was a good sign when he saw that the stadium was literally across the street from St. Mary's Catholic Church.
"I like to think of us as Our Lady's college," said president Minnis (full disclosure — so do I).
When this school year began, the college gathered 1,000 people to pray a "living Rosary" on campus. To recommit Benedictine College to the Blessed Mother five years after the college was consecrated to Mary, participants put hundreds of blessed Miraculous Medals into holes drilled in sidewalks around campus. The holes were then filled in and imprinted with crosses and Ms to form a walking rosary throughout campus.
In advance of the game, the college strove to give players all the benefits that being on campus would provide.
President Minnis scheduled morning Rosaries in a hotel conference room for the week the team would be there, as well as daily Mass. Head Coach Larry Wilcox, who celebrates his 50th year with the team this fall, estimated that more than half the team would attend Mass.
A priest is traveling with the team and will also provide Eucharistic adoration, so that the quarterback would not have to face the game unfortified by time with Jesus in the Blessed Sacrament.
Who will win the Saturday game is anybody's guess, but they will have fans rooting for them all over the country — and especially back home in "Atchison."
St. Benedict's Abbey in Atchison includes several diehard Raven Football fans, including Abbot James Albers OSB, who greets fans at every game with, "Welcome to our back yard. … Go Ravens!"