4 BC would have been one busy year ... but actually ...
It is highly confusing, sorting out the biblical timing of events around Bethlehem and the birth of Jesus, King Herod the Great, and the magi's homage to the babe Jesus, all found in the report of St. Matthew (2:1-23).
Something first to mention: What you will not find in Matthew (as familiar as these elements are) is:
– Mary and Joseph traveling to Bethlehem for a census or for any other reason
– the Christ Child laid in a manger
– shepherds tending their flock by night,
– a crowd of angels singing to those shepherds
All of that is in Luke's Gospel. The only thing Matthew and Luke have in common is the location of Jesus' birth, Bethlehem. In Matthew's case, Bethlehem is almost a by-the-way reference.
But Matthew does note the magi's starry guide and their announcement to Herod the Great that, whatever he thought of himself, a king has been born to the Jews. Matthew also covers the Holy Family's escape to Egypt as Herod the Great is searching to kill Jesus.
It is difficult to construct a timeline and when one tries, it depends on calendars with errors, correlated to the presumed year of Christ's birth, and further correlated to the year Herod the Great died.
Herod the Great died in the year 4 BC.
Yes, that is "before Christ." This is due to "calendar drift," a term of my own invention, attributed to calculation errors in the Julian calendar and also in the Gregorian calendar (named for Pope GregoryXIII) that was devised to correct it. The birth of Christ is, among some authorities, pegged also to 4 BC (that is also "before Christ" and for the same calendar mistakes).
Just be grateful I'm not using the Holocene calendar; the first day of the coming New Year would be January 1, 12019.
In any case, 4 BC (if that's the year Herod died and Jesus was born) would have been one busy year, getting Jesus, the magi, Herod, and the children of Bethlehem all on the same page. It doesn't work, not that way.
If the year of Herod's death is settled as we think, then it is Christ's birth that must be altered. Taking a hint from St. Matthew, to account for Herod's order to kill all the boys of Bethlehem two years old and younger, there must have been an interval between the magi's disturbing announcement to Herod and execution of Herod's order.
This consideration would push the birth of Jesus back, between 6 BC and 4 BC. In that two-year span the magi could have come and gone, leaving their gifts to Jesus, and have taken another route home without popping in on Herod a second time (Matthew 2:12).
Read more:
When was the first Christmas?
Jesus may have been as old as two when Herod's killer squad got to Bethlehem. Of course, by then, Jesus wasn't there (Matthew 2:13ff). Herod would have died shortly afterward in 4 BC.
"We Three Kings of Orient Are" has probably, more than Scripture, shaped our imaginations. We think we know who the magi were and why they brought what they did to Jesus. (What they brought is listed by Matthew; the why is not.)
To correct the hymn, they weren't kings. St. Matthew is clear, they were magi. As magi they were astrologers and magicians, part of the Persian priestly caste of Zoroastrians. They were in their profession advisors to kings, skilled in ferreting out signs and omens in the stars, interpreting dreams and telling fortunes and futures, doing sorcery when needed. As renowned advisors are wont to do, when they weren't dabbling in magic they dabbled in court intrigue.
The ancient historian Herodotus (440 BC) flatly calls them conniving manipulators grasping for the royal ear. He also reports that no sacrifices could be offered by the Persians without the presence of a magus who first performed the appropriate incantations and chanted rousing hymns marking the birthdays of the gods.
Of the ancient descriptions we have of magi, I'm always thinking of something like a Harry Potter road show.
These pagan Zoroastrian priests, in Matthew's telling, are the first to seek the Christ. "We Three Kings" interprets their gifts as gold for royalty; frankincense for divinity; myrrh for burial anointing.
St. Matthew offers no interpretation of any sort, maybe because he simply expected readers to understand that these magi were practitioners of magical pagan arts — rituals and such that required gold, frankincense, and myrrh, things found in the toolkit of their trade.
If so, what were they doing with Jesus? They were surrendering those very tools, giving them up to Mary's child because, well, they probably wouldn't need them anymore, would they?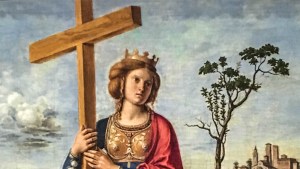 Read more:
8 Incredible relics from the Holy Land that St. Helena might have found