These simple ideas can change your home life.
I'm sure you've noticed that in retail shops and on the radio, Christmas begins sometime in early November. Easter bunnies can begin to hop into view as early as February. It's maddening, but that's just the way things are these days. Right?
It's a different story when you take a peek inside a church. Christmas doesn't start until December 25, and then the complete Nativity is displayed for at least eight days. There aren't Easter flowers until the Vigil, and then we're celebrating until Pentecost.
There is a rhythm to the church's year that is at odds with the secular calendar. It's a contrast that you can shake your head at, or it's one you can lean into. Too often, the secular world wants to live in the moment (not necessarily a bad thing), and then leap into the next one. The Church, on the other hand, is intentional about preparation, about sacrifice, and ultimately about the joy of things hoped for coming to fruition.
Embracing the liturgical year — seasons, solemnities, and feast days — can yield peace in your home that the pace of the world can't provide. Try these simple tips to build up your own domestic church and see what it does for your soul.
1. Choose flowers in the colors of the current liturgical season
There's purple with a dash of pink for Advent and Lent, white for Christmas and Easter, and green for ordinary time. Whether live or silk, flowers in these colors that fill a vase on your table or hang in a wreath on your front door can be a simple, unobtrusive reminder of penance, rejoicing, or the time in between.
2. Cultivate a collection of favorite saints' quotes
Look up the feast days of your favorite saints (or find new ones!). Print out creatively composed images of their inspiring quotes. Many are available free online, while others are offered as prints or downloads for a minimal cost (try searching your saint's name on Etsy). If you're crafty, create them yourself. To display these words of wisdom, choose a frame that fits with your décor — it may be one you already have — and swap out the artwork as the relevant feast day approaches. Seeing the words each day will give you time to reflect and can start a great conversation when you have guests over.
3. Compose a dedicated prayer space
You don't need to establish an elaborate shrine to have a comfortable, inviting place to pray in your home. But if you have somewhere you can be consistent, you're more likely to keep up the practice. Consider the time of day you like to pray and whether you'd prefer to be alone and quiet or to share the space with a family member. Do you need a place to set a mug of morning coffee? Will you be journaling? Make sure to have a coaster and a pen on hand. You might like a spot by a window, or perhaps a chair on your deck. It may take some trial and error, but with care, soon you will have a space you can count on to be ready when you are.
4. Save dessert for special days
Dessert typically means something special at our house. One way my family celebrates Sundays, solemnities, and baptismal days (the anniversary of a person's Baptism) is by having "Bonus Dessert Night." Sometimes it's as simple as a Twizzler or a popsicle, but ending the evening meal with something sweet reminds my kids — and my husband and me — that the particular day is set apart as something to celebrate. It also gives us an easy opportunity to talk about the celebration being observed and to learn more about it than we knew the year before.
 5. Take the Sabbath off
Who really takes Sundays off anymore? Even if we're not going into the office, there are chores to do, shopping to take care of, sports to participate in — unless there isn't. Unless we choose to do those things on the other six days of the week and take a real, honest-to-goodness rest on Sunday. My family started doing this about three years ago. Sometimes it's still a struggle, because of the tide of what's around us. But want to know something crazy? We don't get less done because we take one day off. Spending quality time with each other, taking a break from the concerns that we'll have tomorrow allows us to connect in a stronger, more meaningful way. We're more energized. We've realigned our efforts with our purpose. We're ready to get back out there and share the Good News, however that looks for each of us.
There are plenty of resources out there for those looking to dive deeper into living liturgically, from cookbooks to celebration planning. It's not important that your home is Pinterest-worthy or that you do everything a blogger (even this one!) suggests. What matters is that the practices you put into place in your home feed your soul, and that your living space is a peaceful arena where your soul, which thirsts for the Living God, finds true rest and experiences real love.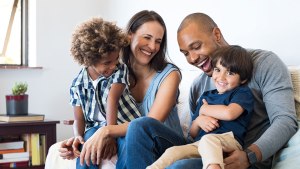 Read more:
How do you make your home a "domestic church" when your everyday is all over the place?