The evidence of our senses is overwhelming: Evil, not good, is in control of the world.
What can God do in your life with one Bible verse a day?
Subscribe to Aleteia's new service and bring Scripture into your morning:
Just one verse each day.
Click to bring God's word to your inbox
We have all seen how the anticipation to open Christmas presents gets so strong, children can barely take it anymore. Not being able to possess what is in those boxes makes them feel like there is a giant hole in their lives.
The same thing happens to adults in readings for this Sunday, the Fourth Sunday of Advent (Year C). They are so anxious for Jesus Christ to come, they are crazy with it. We should be, too.
The signs of Jesus' absence are all around.
Most churches are still decked out in purple, resolutely refusing the Christmas decorations that have taken over the rest of the world, such that it feels a little strange.
It should. So should the many Nativity scenes with no Baby Jesus in them — they should seem as strange as a painting of the Last Supper with no one in the middle of the table.
Our lives should feel like something's missing, too. The saints talk about the unbearable thirst for Jesus Christ, whom we will meet fully only in heaven. He is the puzzle piece that completes a picture that doesn't make sense without him.
Read more:
Not believing in Jesus is an inconvenience in this season, isn't it?
In the Old Testament, people knew how strange and empty life was without Christ.
Today's Entrance Antiphon goes so far as to pray that Jesus will fall from the sky or sprout out of the ground.
"Drop down dew from above," it says, "and let the clouds rain down the Just One; let the earth be opened and bring forth a Savior."
In the Psalm, the position of the world without Jesus is compared to a flock of sheep with no shepherd, a vine with no gardener. "Rouse your power, and come to save us," it begs.
Life without Jesus is a life where evil has the upper hand.
The evidence of our senses is overwhelming: Evil, not good, is in control of the world. There is too much suffering and failure and sin to believe otherwise.
That is what the Prophet Micah saw. His book of the Bible begins with a scathing summing up of his times, calling his nation "unclean" and complaining that its people "hate what is good and love evil." Their "wound is incurable," he decides.
But then he sees a cure: "You, Bethlehem-Ephrathah, too small to be among the clans of Judah, from you shall come forth for me one who is to be ruler in Israel; whose origin is from of old, from ancient times."
Our world can seem Christless, in exactly the same way.
It seems everything we do to defeat unrest and evil in the world fails. The police haven't won. The good intentions of the school system haven't done it. Our attempts to be fulfilled by music, movies, stories, substances, and each other have all come up short.
This is the condition the world has always been in. The Second Reading describes the unexpected answer God brought to the problem of our inability to reach him: He joined us.
"Sacrifice and offering you did not desire, but a body you prepared for me; in holocausts and sin offerings you took no delight. Then I said, 'As is written of me in the scroll, behold, I come to do your will, O God.'"
In today's Gospel, when God finally does come, people don't even wait for Christmas to start celebrating.
St. John the Baptist is, appropriately, the first person to give public witness to Jesus Christ. But he does it before either he or Jesus is born. "When Elizabeth heard Mary's greeting, the infant leaped in her womb," says the Gospel.
John the Baptist's mother, St. Elizabeth, is the first person apart from Mary to witness to the Trinity, calling Mary, "mother of my Lord."
We wait for Jesus with the same eagerness; we should greet him with the same joy.
The crèche won't be empty much longer, and our heart won't be away from God for much longer, either.
Elizabeth sums up Mary as "Blessed are you who believed what was spoken to you by the Lord would be fulfilled."
This is the attitude that Catholics need before Christmas and Christians need in the turmoil we live in still, for now.
Blessed are you who believe what the Second Reading says, that "we have been consecrated through the offering of the body of Jesus Christ once for all."
And Blessed are you who believe, with the First Reading, that "his greatness shall reach to the ends of the earth; he shall be peace."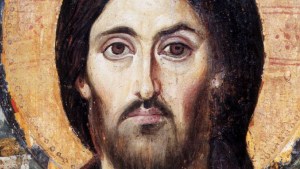 Read more:
Longing to see Christ's face? Begin with this litany