It calls upon the Virgin Mary as the "star" that draws us closer to Christ.
The great season of Advent is full of rich symbolism, especially in regards to the contrast of light and darkness.
For example, Jesus is known as the "light of the world" and his birth was made known to the Magi by a bright star, as they recounted to King Herod, "For we have seen his star in the East, and have come to worship him" (Matthew 2:2).
Stars then play a vital role in the symbolism of Christmas, pointing the way to Jesus Christ.
The Virgin Mary is similarly known under such titles as "Star of the Sea," and is often referred to as a "star" that leads other people to her Son, the true "light" that shines in the darkness.
In Advent and throughout the Christmas season, the Church proposes an ancient hymn known by its Latin name, Alma Redemptoris Mater. It was written by St. Herman the Cripple in the 11th century and is recited after the conclusion of Night Prayer.
It is a beautiful prayer, one that highlights this symbolism and points our hearts towards Bethlehem, in eager anticipation of the birth of the Savior.
Below is the Latin and English translation of this beloved hymn, which can easily be turned into a prayer throughout the Advent and Christmas seasons.
Alma Redemptoris Mater, quae pervia caeliPorta manes, et stella maris, sucurre cadenti, Surgere qui curat populo: tu quae genuisti, Natura mirante, tuum sanctum Genitorem, Virgo prius ac posterius, Gabrielis ab oreSumens illud Ave, peccatorum miserere. Loving mother of the Redeemer, gate of heaven, star of the sea, assist your people who have fallen yet strive to rise again, To the wonderment of nature you bore your Creator, yet remained a virgin after as before, You who received Gabriel's joyful greeting, have pity on us poor sinners.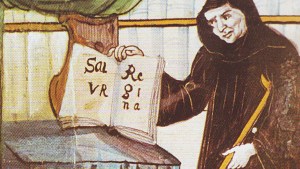 Read more:
The inspiring story of how a blind, crippled monk composed the Salve Regina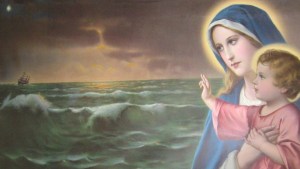 Read more:
The surprising meaning behind the Virgin Mary's name