Providentially found in Bogota, Colombia, the statue helped revive devotion to the Divine Child Jesus.
One of the most popular depictions of the Divine Child Jesus is found in Bogota, Colombia. Known as the "Divino Nino," it was providentially discovered after a local priest experienced a heavenly vision of the Divine Child.
In 1914, Salesian priest Fr. John Rizzo sought to build a church for the people of the nearby city, Barranquilla. However, he had no money and the people he served were extremely poor. When he tried to raise the necessary funds, he came up empty.
After kneeling before a statue of the Blessed Virgin Mary, he looked-up and saw the Divine Child Jesus in the arms of the Blessed Mother. Jesus was smiling with his arms outstretched and Rizzo thought he was saying, "Take me with you. I want to accompany you."
He was then successful in raising funds for the building of the church and it cemented in him a deep and abiding love for the Infant Jesus. Furthermore, this convinced Rizzo that he needed to spread devotion to the Divine Child and when he was transferred to his next assignment, he sought a way to foster the devotion.
Rizzo visited the shop of a local Italian artist, who had an antique statue of the Divine Child Jesus, with arms open in an inviting manner. The statue initially had a cross on the back, but Rizzo ordered the cross be removed and the words, "Yo Reinare" (I will reign) inscribed at the base.
He began to preach about the Divine Child and built a small chapel to house the statue. Miracles soon followed and devotion spread rapidly. Eventually a large church was built and thousands of people flocked to the shrine. Miracles continue to this day and a yearly novena is often celebrated from December 16 – 24, in honor of the "Divino Nino."
The statue is a reminder of God's tender love for humanity and the openness God has for each one of us. His arms are reaching out to us, just like any child who wants to be picked up. He invites us to take him up into our own arms, pressing him close to our heart.
It is a favorite statue of many throughout the world and is a beautiful depiction of the Divine Child for the Christmas season.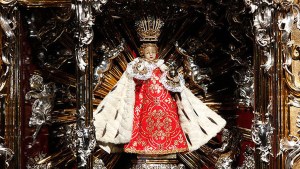 Read more:
A brief history of the legendary statue of the Infant of Prague
Read more:
Prayer of St. Therese of Lisieux to the Divine Child Jesus